Have you ever pointed your projector at a wall, only for the picture to come out terrible? Has your wall ever sucked out all the color and contrast from your projection, making it dull and lifeless? This happens way too often.
The problem with using walls for projectors is that they were not made for this task. Ordinary paint is not suitable for projectors, your images won't come out clear and bright.
That's why you need projector screen paint.
Yes, there is such a thing as projector screen paint. It is paint that is specially formulated to enhance your viewing experience.
But what is projector screen paint? What color should projector screen paint be for your home theater? And what are the best projector screen paints out there today?
Let's answer all of these and more for you right now!
What Is the Best Finish?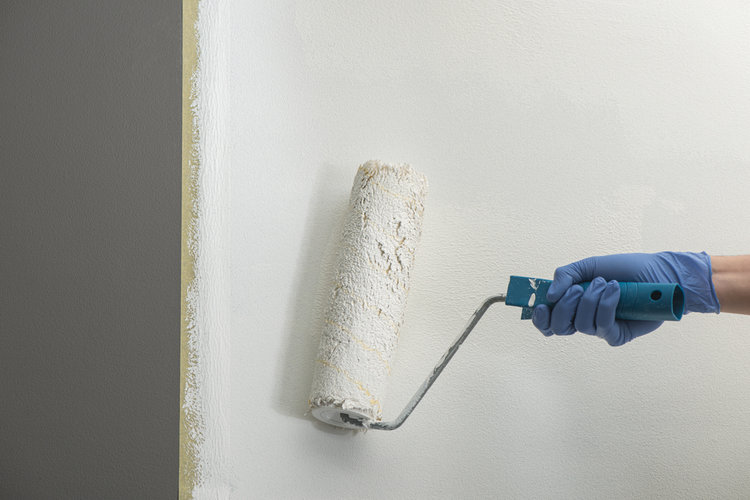 When choosing a paint, it's important to have the finish in mind. That's why before even going out to buy, you should check your wall first. Make sure your wall is as flat as possible.
Once your wall is flat, you'll need the right paint for it. If you know anything about paint, you know that there are several finishes. The finish you choose will have a big effect on the quality of your projection.
For projector walls, the finish should not be too glossy, but neither should it be matte.
The problem with glossy finishes is that it will reflect a lot of light. And when a lot of light is reflected, this damages the clarity. You won't get crisp clear images on your projection when you use glossy paint.
On the flip side, matte paint also doesn't do a good job. It doesn't reflect, but it drains all the color. You'll get very dull and discolored pictures when you flash your projector against a matte wall.
Flat paint won't do very well either. You'll run into the same problems with flat paint as you will with matte. The colors won't be bright and vivid when you project on a flat painted wall.
That's why you need something in between. You need something that doesn't reflect so strongly, but also something that doesn't suck the color off.
The ideal finish is a satin finish. Tests show that satin finish performs as well as a projector screen does in terms of quality and clarity. Its balance between glossy and matte makes it great for projecting on walls.
If you can't get satin paint, any paint that isn't too glossy or too matte will do. Remember that glossy makes it too shiny, while matte makes your pictures quite lifeless.
What Is the Best Color?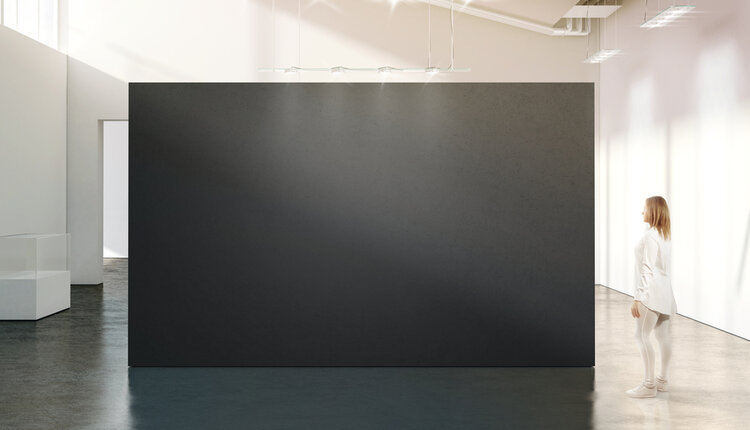 We all know that white is the standard color for projector screens. We touched on the reasons for this in our White vs Black projector screen article. The same is true when it comes to projector wall paint as well.
Despite this, white may not be the best color for your projector wall. A lot of times, gray will work out better. Some people even go for black, although this isn't very popular since it is permanent paint.
The best projector screen paint color depends on a number of factors. Before you choose which paint to use, you should consider:
Surrounding Brightness
One of the first things to consider is how bright your surroundings are. How much ambient light gets into the room? This is important because it will impact your projection a lot.
There are two ways to combat bright surroundings. One is to brighten the projection, the other is to add more contrast.
Since white paint is the most reflective, it is also the brightest. White paint is so bright, you can still see what is projected on them despite the ambient light. It may not be the clearest, but you can see what is on it alright.
Gray paint is probably the worst for ambient light. It isn't as bright as white and doesn't absorb light as well as black.
Finally, black. Again, black isn't very popular. But when black paint is used, it will absorb light a lot, and provide a beautiful contrast. This allows you to view even when daylight is finding its way in through your windows.
Projector Brightness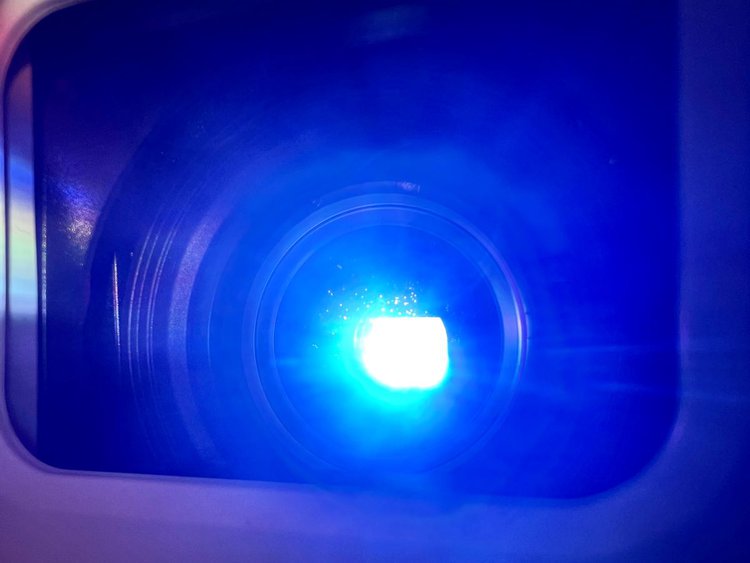 If you're in a dark room, you have other things to consider. One of them is how bright your projector shoots light. Some projectors aren't very bright, while others can shoot over 3,000 lumens at the wall.
The projection has to be bright for you to get good pictures on it. With a dim projector, you'll need a wall that can reflect as much light as possible. This will help make up for the lack of light being shot at the wall.
That's why white paint works very well for dim projectors. Remember, white is the most reflective color around. So despite the low light emitted, a white screen wall can brighten the image enough.
Gray and black paint won't do as good of a job. Weak projectors won't give enough light on these colors. That's why the image will come out darker than it should.
On the contrary, when you have a very bright projector, white paint may not be the best choice. Unless you can control the brightness, aiming a powerful projector at a white screen wall will be way too bright. A gray or black projector screen will handle this a lot better.
Your Preference
Finally, it is also very important to choose a paint that you like. Unlike a projector screen, you can't stash away a projector wall when you aren't using it. It is a lot more permanent than the projector screen.
That's why you have to consider the looks of the room or office. If your office is white, and you go for black paint, you'll have a different rectangle in the room. The same is true if you have a black room with a white projector wall.
It's also important to note that white paint will give you more vibrancy, while black will give you more contrast. Gray paint will give you something in between those two.
With all these in mind, you should know which color will work best for you.
What Is the Best Projector Screen Paint?
Now that we've discussed how to choose the right screen paint for your setup, let's go over our top five screen paints in 2023. We'll discuss each paint's pros and cons so you can make the right choice for your entertainment setup.
Let's get started!
Screen Paint
What we like
What we don't like
High Definition, 4K, Ultra White

4K compatible
Creates smooth and high-contrast images
Affordable price point

May need more than one can, depending on your screen size

3D4K Silverish Light Grey

2.4 gain makes images look very bright
HD and 4K compatible
Wide 140-degree viewing angle perfect for large audiences

The price point is a little high

S1 Ultimate Contrast

High-contrast properties produce a vivid image
2.0 gain makes the screen quite bright
4K compatible

Paint can be a little clumpy

Smarter Surfaces Short Throw

Several color options
Matte finish creates a high-contrast image
Easy to apply

Several colors' gains are a little low

Digital Theater White

Moderately priced
4K compatible with even finish
Enhances images' colors

1.4 gain is quite average
1. High Definition, 4K, Ultra White
Last update on 2023-10-04 / Affiliate links / Images from Amazon Product Advertising API.
This non-toxic screen paint is the perfect choice for anyone looking to create a stun-worthy home theater on a budget. The High Definition, 4K, Ultra White paint is by far the most affordable option on this list and can either be rolled or sprayed onto a wall depending on your desired outcome.
Users love that it eliminates any pesky hot spots that may appear when projecting onto a plain white wall and that the paint makes the projector's image look more high contrast than ever before. It's also 4K compatible, making all ultra-high-definition movies look incredibly lifelike.
But that's not all! The High Definition, 4K, Ultra White screen paint also boasts a gain of 1.5, making images appear somewhat brighter than they otherwise would on a normal white wall. A screen's gain measures how much brighter it will make the image appear. So, in this case, this screen paint will make your projector look 1.5 times brighter than it usually does when projected onto a standard whiteboard.
However, some users have found that this screen paint isn't ideal to use on drywall as it seeps into the cracks, creating the appearance of an uneven surface. The product description also recommends painting two coats, so depending on the size of the area you want to paint, you may need more than one can of paint.
What we like:
We love this paint's 4K compatibility which makes high-res films look extra clear.
It makes once-dull images look even and high-contrast.
The affordable price point proves you can create an amazing home theater without breaking the bank.
What we don't like:
It's recommended to paint on more than one coat, so you may need to purchase two cans depending on your desired screen size.
2. 3D4K Silverish Light Grey
Last update on 2023-10-04 / Affiliate links / Images from Amazon Product Advertising API.
If you're looking to create the brightest image possible, look no further than the 3D4K Silverish Light Grey screen paint! This ultra-bright screen paint has a 2.4 gain, making images look a whopping 2.4 times brighter than before. Its extremely high brightness also makes it suitable to use in ambient lighting so you can enjoy your home theater any time of day!
What's more, the screen supports both HD (1080p) and 4K, allowing you to watch all your favorite movies on the big screen without skimping on image quality.
While this paint is a tad more expensive than the other recommendations on this list, you only need to paint one coat to instantly see a big difference in your projector's image quality. One can of paint also covers 170 square feet, so you may even have some leftovers to use in other rooms in your home.
Moreover, the 3D4K Silverish Light Grey screen paint also boasts a 140-degree viewing angle, so you can still clearly see the screen no matter where you sit in your home theater.
Last, but certainly not least, this screen paint is 3D-compatible and can be used with active shutter glasses. If you've ever dreamed of having an IMAX in your own home, then this paint is for you!
What we like:
We love this paint's high 2.4 gain which makes images look extremely bright.
It supports both HD and 4K picture resolutions.
The wide 140-degree viewing angle makes it perfect if you love entertaining large audiences.
What we don't like:
Its price point may be a little high for some consumers.
3. S1 Ultimate Contrast
Last update on 2023-10-04 / Affiliate links / Images from Amazon Product Advertising API.
Given the S1 Ultimate Contrast screen paint's name, it's no surprise that it boasts some seriously high contrast levels that make images look incredibly vivid.
But that's not all! Thanks to the paint's 2.0 gain, not only will the images look vivid but they'll also look ultra-bright, making it perfect to use for daytime TV watching in bright rooms. This can allow you to completely replace your TV with a projector as you won't have to black out the room every time you want to watch something.
Not to mention the S1 Ultimate Contrast screen paint also supports 4K, mimicking the quality of a high-res television.
Like the 3D4K Silverish Light Grey screen paint, this paint also supports active shutter 3D content, making movie nights just that much more special.
It has a generous cone viewing angle of 150 degrees, allowing everyone in the room to clearly see the screen without straining their eyes.
While some users claim this paint is easy to apply, others say their cans were quite clumpy and they had to spend some time thoroughly mixing it before applying it. This paint is also a bit more expensive than some of the other paints on this list, but according to its gleaming reviews, it's well worth the price.
What we like:
We love this paint's high-contrast properties that produce a vivid image.
Its 2.0 gain makes the screen competitively bright.
We like that it supports 4K and makes images look crisp.
What we don't like:
The paint can be a little clumpy, so be sure to thoroughly mix it.
4. Smarter Surfaces Short Throw
Last update on 2023-10-04 / Affiliate links / Images from Amazon Product Advertising API.
The Smart Surfaces Short Throw screen paint, which was specifically designed for short-throw projectors, dries into a beautiful matte screen that limits reflectivity and hot spots so you won't see those dreaded bright spots on-screen ever again.
It comes in a variety of colors including white, black, light gray, and transparent. Each color boasts a slightly different gain ranging from 0.2 to 1.25.
While the higher-gain colors may be suitable for slightly brighter-lit rooms, colors with a gain lower than 1 are best used in dim environments. You can see the difference between each color by checking out this comparison table.
As is the case with the other screen paints on this list, the Smart Surfaces Short Throw screen paint also supports 4K and produces a stunningly clear picture.
All paint colors are also wipeable, making them easy to clean, which is great if you have little ones who love to leave their dirty fingerprints on walls.
This paint can also be applied straight to your wall without primer, and while it's recommended to apply two coats, many users say that only one did the trick.
What we like:
With several colors to choose from, you can select the right screen paint for your specific needs.
Its matte finish creates a high-contrast image.
We love how easy this paint is to apply.
What we don't like:
Several paint colors' gains are a little low.
5. Digital Theater White
Last update on 2023-10-04 / Affiliate links / Images from Amazon Product Advertising API.
If you're looking for an affordable no-fuss screen paint option that will get the job done without putting you in debt, you'll love the Digital Theater White screen paint. While the paint's actual color is light gray, it makes your projector's colors look natural and smooth.
You only need to apply two to three coats on your primed wall to instantly transform any surface into a state-of-the-art projector screen. Additionally, this paint is also 4K-compatible, so the wall's subtle texture won't make your movie look grainy.
However, one user strongly recommends continuously keeping your roller wet and moving on the wall for the smoothest texture possible.
While Digital Theater White's 1.4 gain is bright enough for dimly lit rooms, it's nothing to write home about and you may want to steer clear of this paint if you plan on watching movies in medium to high ambient lighting.
What we like:
We love paint's moderate price point.
It makes walls look even with minimal effort, making 4K images really pop.
It enhances the images' colors.
What we don't like:
Its 1.4 gain is quite average, but should be good enough for dimly lit and dark environments.
How to Paint a Projector Screen Wall
Projection Screen Painting Process In Less Than 3 Minutes
Now that you know what the best finish, color, and projector screen paint are, you may be wondering, "How exactly do I paint my projector screen wall?".
Fear not, because the process is very easy. Anyone can paint their own projector wall, you don't need the professionals to do it for you anymore. All it takes is 5 simple steps
Step 1: Prepare Wall
Remember, it is very important to have a flat wall. Any bumps on the wall will ruin the picture. No matter how good the paint you use is, if the wall is not prepared, it won't do well.
That's why you should flatten your wall first. A good way to do this is by sanding it. You want it to be as smooth as possible before you apply any paint.
A good way to make sure of this is to use a flashlight. Stay on one side and flash across the wall. Your flashlight will make any lumps on the wall visible.
Another thing to do before painting is to ensure the wall is the right color. If your projector screen paint and wall are different colors, add primer first. This way, you won't get a discolored wall.
Step 2: Measure Projection
If you plan to paint the entire wall, you can skip this step. But if you want the best results, it's best to only paint the area with the projection.
So before you start painting, test your projector first. Turn it on and outline its borders with masking tape. This way, you will only paint the areas that need to be painted.
Step 3: Paint!
Now comes the time to paint!
Always follow the instructions given by your projection screen paint manufacturer. This will give you the best results for your wall.
Most of them will tell you to do a double-coat. Apply one coat, wait for it to dry, then apply the next one. This will ensure that you get a solid paint job but also keep some translucency.
Make sure you apply the paint evenly. You don't want some areas to be darker than others. A little care while painting will drastically improve the finished product.
Step 4: Add Borders
When the paint dries, you are good to go! If you want to make things even better though, you should add some borders.
Putting a black border around your projector wall will add a lot of contrast. It will draw your eyes in toward the projector screen. This small addition goes a long way in the quality of your experience.
Black borders work best, but you can choose any color. Some people even build wooden frames for this for their home theater. The easiest thing to use though is black border tape.
Step 5: Enjoy!
With these simple steps, you can take your viewing experience to a whole new level. Your images will come out so much better and clearer. You're never going to want to go back once you've tried viewing with projection paint.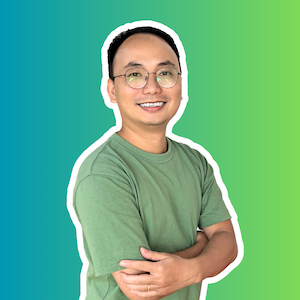 Vance is a dad, former software engineer, and tech lover. Knowing how a computer works becomes handy when he builds Pointer Clicker. His quest is to make tech more accessible for non-techie users. When not working with his team, you can find him caring for his son and gaming.