Have you ever pointed your projector at a wall, only for the picture to come out terrible? Has your wall ever sucked out all the color and contrast from your projection, making it dull and lifeless? This happens way too often.
The problem with using walls for projectors is that they were not made for this task. Ordinary paint is not suitable for projectors, your images won't come out clear and bright.
That's why you need projector screen paint.
Yes, there is such a thing as projector screen paint. It is paint that is specially formulated to enhance your viewing experience.
But what is projector screen paint? What color should projector screen paint be for your home theater? And what are the best projector screen paints out there today?
Let's answer all of these and more for you right now!
Comparison table
What is the Best Finish?
When choosing a paint, it's important to have the finish in mind. That's why before even going out to buy, you should check your wall first. Make sure your wall is as flat as possible.
Once your wall is flat, you'll need the right paint for it. If you know anything about paint, you know that there are several finishes. The finish you choose will have a big effect on the quality of your projection.
For projector walls, the finish should not be too glossy, but neither should it be matte.
The problem with glossy finishes is that it will reflect a lot of light. And when a lot of light is reflected, this damages the clarity. You won't get crisp clear images on your projection when you use glossy paint.
On the flip side, matte paint also doesn't do a good job. It doesn't reflect, but it drains all the color. You'll get very dull and discolored pictures when you flash your projector against a matte wall.
Flat paint won't do very well either. You'll run into the same problems with flat paint as you will with matte. The colors won't be bright and vivid when you project on a flat painted wall.
That's why you need something in between. You need something that doesn't reflect so strongly, but also something that doesn't suck the color off.
The ideal finish is a satin finish. Tests show that satin finish performs as well as a projector screen does in terms of quality and clarity. Its balance between glossy and matte makes it great for projecting on walls.
If you can't get satin paint, any paint that isn't too glossy or too matte will do. Remember that glossy makes it too shiny, while matte makes your pictures quite lifeless.
What is the Best Color?
We all know that white is the standard color for projector screens. We touched on the reasons for this in our White vs Black projector screen article. The same is true when it comes to projector wall paint as well.
Despite this, white may not be the best color for your projector wall. A lot of times, grey will work out better. Some people even go for black, although this isn't very popular since it is permanent paint.
The best projector screen paint color depends on a number of factors. Before you choose which paint to use, you should consider:
Surrounding Brightness
One of the first things to consider is how bright your surroundings are. How much ambient light gets into the room? This is important because it will impact your projection a lot.
There are two ways to combat bright surroundings. One is to brighten the projection, the other is to add more contrast.
Since white paint is the most reflective, it is also the brightest. White paint is so bright, you can still see what is projected on them despite the ambient light. It may not be the clearest, but you can see what is on it alright.
Grey paint is probably the worst for ambient light. It isn't as bright as white and doesn't absorb light as well as black.
Finally, black. Again, black isn't very popular. But when black paint is used, it will absorb light a lot, and provide a beautiful contrast. This allows you to view even when daylight is finding its way in through your windows.
Projector Brightness
If you're in a dark room, you have other things to consider. One of them is how bright your projector shoots light. Some projectors aren't very bright, while others can shoot over 3,000 lumens at the wall.
The projection has to be bright for you to get good pictures on it. With a dim projector, you'll need a wall that can reflect as much light as possible. This will help make up for the lack of light being shot at the wall.
That's why white paint works very well for dim projectors. Remember, white is the most reflective color around. So despite the low-light emitted, a white screen wall can brighten the image enough.
Grey and black paint won't do as good of a job. Weak projectors won't give enough light on these colors. That's why the image will come out darker than it should.
On the contrary, when you have a very bright projector, white paint may not be the best choice. Unless you can control the brightness, aiming a powerful projector at a white screen wall will be way too bright. Grey or black projector screen will handle this a lot better.
Your Preference
Finally, it is also very important to choose a paint that you like. Unlike a projector screen, you can't stash away a projector wall when you aren't using it. It is a lot more permanent than the projector screen.
That's why you have to consider the looks of the room or office. If your office is white, and you go for black paint, you'll have a different rectangle in the room. The same is true if you have a black room with a white projector wall.
It's also important to note that white paint will give you more vibrancy, while black will give you more contrast. Grey paint will give you something in between those two.
With all these in mind, you should know which color will work best for you.
What is the Best Projector Screen Paint?
The best projector screen paint will differ from person to person. That said, we can help you choose the right one. Below, we've listed 4 of our favorite projector screen paints.
1. Paint On Screen – S1 Projector Screen Plus
Last update on 2023-05-28 / Affiliate links / Images from Amazon Product Advertising API.
S1 Projector Screen Plus is one of the best projector screen paints out there. It is the level 5 of this paint line-up, which gives it a 1.5 gain in brightness.
This projection screen paint comes in silver color, making it very versatile. You can use it in almost any situation because of this. It has a great combination of brightness and contrast.
What's more, it also has a great balance between gloss and matte. It doesn't overshine your wall, neither will it swallow up the colors.
All of this makes it perfect for projecting on. You will see a huge difference between this and your plain walls.
The S1 Projector Screen Plus is also HD supporting. So if you have HD footage, you won't compromise it when you project it on the wall. You'll get the full high definition footage with this paint.
Finally, this projection screen paint is super easy to apply. You don't need special tools or any special instructions. All you have to do is apply a double coat and you're good to go.
What we like:
Silver color
Supports HD
Easy to Apply
What we don't like:
Not the brightest paint for a home theater
2. Ultra HD Premium Projector Screen Paint
Last update on 2023-05-28 / Affiliate links / Images from Amazon Product Advertising API.
Another screen paint you should check out is Ultra HD's premium projector screen paint. Unlike the previous paint, this one is white. That's why with it, you'll get all the benefits of having a white projector screen.
Since it is white, this premium projector screen paint will light up your wall a lot. Even if you have a weak projector, you can still get bright pictures on your wall. This also allows you to view when the room isn't as dark as you want it to be.
Ultra HD's projector screen paint is an acrylic latex type of paint. This gives you that semi-gloss that is great for projectors. It may be a bit glossier than you want, but you never have to worry about weak colors.
As all good projector screen paints do, this paint also supports HD. That's why you can turn your ordinary and plain viewing into a full HD experience.
As for application, it is once again super easy. You can even spray it over the surface.
What we like:
Works with weaker projectors
Acrylic latex gives a great finish
Supports HD
What we don't like:
Maybe too reflective for a home theater
3. Digital Image HD Projector Screen Paint
Last update on 2023-05-28 / Affiliate links / Images from Amazon Product Advertising API.
If you're looking for an ultra-white paint, Digital Image's HD projector screen paint will be a good choice.
By now, you should already know why white is the standard color for projector walls. With this projector screen paint, you'll get bright and vivid colors. This also gets you bright pictures even when your projector isn't the strongest one.
Compared to the other projection screen paints here, Digital Image's HD projector screen paint is a lot cheaper. You can save quite a lot of money when you go for this choice. And you'll find that it does the job very well.
As you can guess by the name, this paint supports HD viewing as well. There is a big difference between using this paint and ordinary paint for your projections.
That said, you may find that the quality isn't as good as the others. This difference is very small, and most people won't notice anything. But if you're picky, this may bother you.
At its price point though, you'll find that it is a good buy. It's also super easy to use, you won't run into any problems at all.
What we like:
Bright vivid colors
Works with weaker projectors
Affordable
What we don't like:
4. Paint On Screen S1 Ultimate Contrast
Last update on 2023-05-28 / Affiliate links / Images from Amazon Product Advertising API.
Another projector screen paint from Paint On Screen's lineup is the S1 Ultimate Contrast. This one is two steps higher, at level 7. This means that it is a lot brighter than Projector Screen Plus with a gain of 2.0.
Like Projector Screen Plus, Ultimate Contrast is also silver paint. With it, you can get a bright image that also has a lot of contrast.
Also like Projector Screen Plus, this paint has a great balance between glossy and matte. Your colors will be perfect, and you won't get too much reflection. However, it does give brighter feedback than the Projector Screen Plus.
This can be a good thing or a bad thing. It is great for weaker projectors because it allows them to shine bright despite their low lumens. On the other hand, it may be too bright for stronger projectors.
Because it's so bright, this is also great for viewing rooms full of ambient light. If you can't keep the sunlight out, or if you can't turn the lights off, this paint will work very well.
As always, this paint also supports HD footage. It is also super easy to paint on, whether you use a roller or a spray.
What we like:
Very bright
Good contrast
Supports HD
What we don't like:
Ever wonder if Sherwin Williams is good at painting a projector screen? Check out this review!
How to Paint a Projector Screen Wall
Projection Screen Painting Process In Less Than 3 Minutes
Now that you know what the best finish, color, and projector screen paint are, you may be wondering, "How exactly do I paint my projector screen wall?".
Fear not, because the process is very easy. Anyone can paint their own projector wall, you don't need the professionals to do it for you anymore. All it takes is 5 simple steps
Step 1: Prepare Wall
Remember, it is very important to have a flat wall. Any bumps on the wall will ruin the picture. No matter how good the paint you use is, if the wall is not prepared, it won't do well.
That's why you should flatten your wall first. A good way to do this is by sanding it. You want it to be as smooth as possible before you apply any paint.
A good way to make sure of this is to use a flashlight. Stay on one side and flash across the wall. Your flashlight will make any lumps on the wall visible.
Another thing to do before painting is to ensure the wall is the right color. If your projector screen paint and wall are different colors, add primer first. This way, you won't get a discolored wall.
Step 2: Measure Projection
If you plan to paint the entire wall, you can skip this step. But if you want the best results, it's best to only paint the area with the projection.
So before you start painting, test your projector first. Turn it on and outline its borders with masking tape. This way, you will only paint the areas that need to be painted.
Step 3: Paint!
Now comes the time to paint!
Always follow the instructions given by your projection screen paint manufacturer. This will give you the best results for your wall.
Most of them will tell you to do a double-coat. Apply one coat, wait for it to dry, then apply the next one. This will ensure that you get a solid paint job but also keep some translucency.
Make sure you apply the paint evenly. You don't want some areas to be darker than others. A little care while painting will drastically improve the finished product.
Step 4: Add Borders
When the paint dries, you are good to go! If you want to make things even better though, you should add some borders.
Putting a black border around your projector wall will add a lot of contrast. It will draw your eyes in toward the projector screen. This small addition goes a long way in the quality of your experience.
Black borders work best, but you can choose any color. Some people even build wooden frames for this for their home theater. The easiest thing to use though is black border tape.
Step 5: Enjoy!
With these simple steps, you can take your viewing experience to a whole new level. Your images will come out so much better and clearer. You're never going to want to go back once you've tried viewing with projection paint.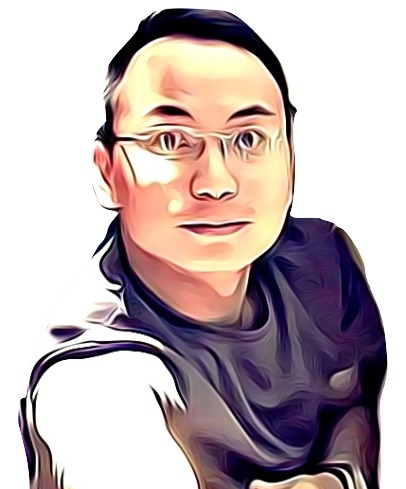 Vance is a dad, former software engineer, and tech lover. Knowing how a computer works becomes handy when he builds Pointer Clicker. His quest is to make tech more accessible for non-techie users. When not working with his team, you can find him caring for his son and gaming.