Are you integrating a new room into your home? One of the most popular home additions is home theaters!
It adds a little more culture to your environment and increases your home's market value.
Instead of just regular bedrooms and living spaces, a home theater is certainly interesting.
Done right, adding a home cinema can make your future movie marathons one for the books.
Don't forget about the little details! While it can be hard to pick out the electronic components that belong in your home theater, choosing the right color scheme can be just as challenging.
Below, we've put together some of the best colors and palettes to compliment your home cinema!
Caution: Watch out for movie references. Now, let's have some pun!
What Colors Are Good for Your Media Room?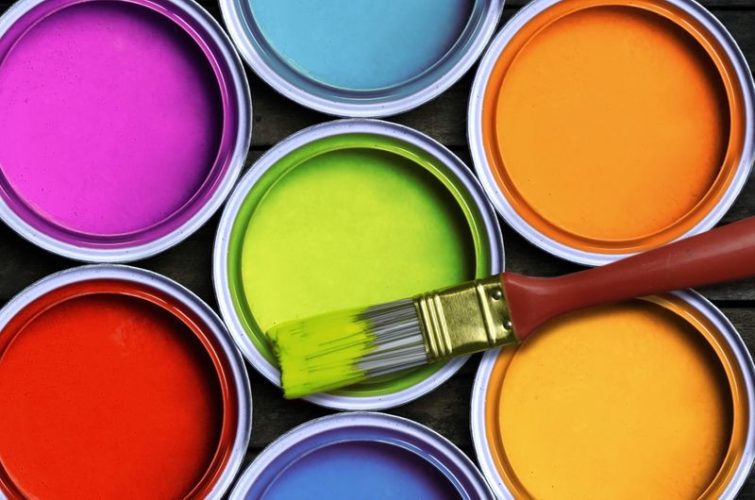 Don't just throw a bunch of colors together. You don't want your expensive home addition to become a melting pot of pop culture references with hints of old-school junk.
We know it's exciting to debut your new room to friends and family, but don't get too hasty!
Take a little extra time to choose colors, incorporate curtains, and put everything in place.
One seam out of place can ruin its whole vibe.
Your new rec room can be great for your get-togethers with other movie buffs, but its color palette will matter just as much if you integrate one for work purposes.
What's the Best Paint Color for a Home Theater?
A media room needs finesse. Cultivation of your refined taste with cinematic twists for a bit of personality.
The goal should be to keep attention off your walls and redirect it to the real star of the show, the "silver screen."
Expect bright light emissions, whether you opt for a large 4K screen like the 77-inch LG OLED C1 or the LG Ultra 4K Laser Smart Home Projector .
Light bounces off walls and furniture. The lighter the color of things, the more they absorb light and reflect it onto other surfaces.
Opt for a darker scale unless you want a light show.
It would be best to go for a noir motif, sticking to black and dark gray but sans white.
However, those aren't your only options. Black is more versatile than you think.
Charcoal, Dark Raisin, Strong Coffee, Walnut Hull, and Parisian Night.
These are just some of the variants black comes in, and there are more than just Fifty Shades of Grey . (That's a reference only movie buffs and single ladies will understand.)
Still, there are more colors to choose from other than black.
Believe it or not, there are redder options if you want a more red carpet look. There are also some in blue, green, and The Color Purple . (You must have seen that coming!)
Here's a quick little color cheat sheet for you.
Color Coding
Black/Off Black
Red
Blue
Violet
Green
Charcoal

#343837

Maroon

#800000

Navy

#000080

Indigo

#4B0082

Army

#4B5320

Dark Raisin

#1a0f0f

Barn Red

#7C0A02

Independence

#4C516D

Wine

#2C041C

Sacramento

#043927

Strong Coffee

#282922

Vermilion

#7E191B

Dark Sapphire

#082567

Dark Purple

#301934

Dark Jungle

#1A2421

Wallnut Hull

#1b1813

Sangria

Hex #5E1914

Yale

#00356B

Russian Violet

#32174D

Midnight-Green

#004953

Parisian Night

#323441

Mahogany

#420D09

Space Cadet

#1D2951

Prince Charming

#493F5E

Kaitoke

#004830
There's plenty you can mix and match with painting your walls, but don't forget about your flooring and ceiling.
What's the Best Kind of Flooring for a Home Theater?
Dark Floors . (Believe it or not, that too was a movie pun.)
For floors, look for good carpet options.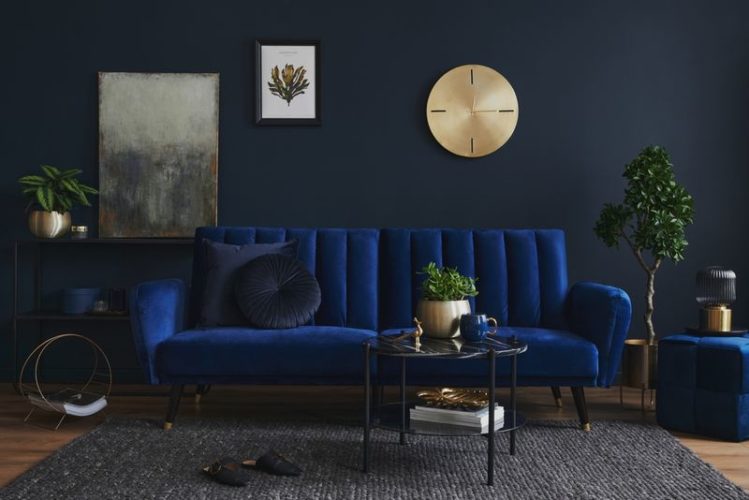 It helps contain the volume of your surround sound, and people can walk in and out without causing a disturbance.
Additionally, here's one place you can incorporate a little character.
While dressing the rest of your floors with velvet in a solid color, throw in a magic carpet for an added twist.
A dark Runner Rug with a complementary theme is an undisruptive design hack.
Still, while you can dress your floors up with some fabric, your ceilings need more effort.
What Color Should the Ceiling Be in a Home Theater?
It's best to keep it black, if not the darkest color on your current palette.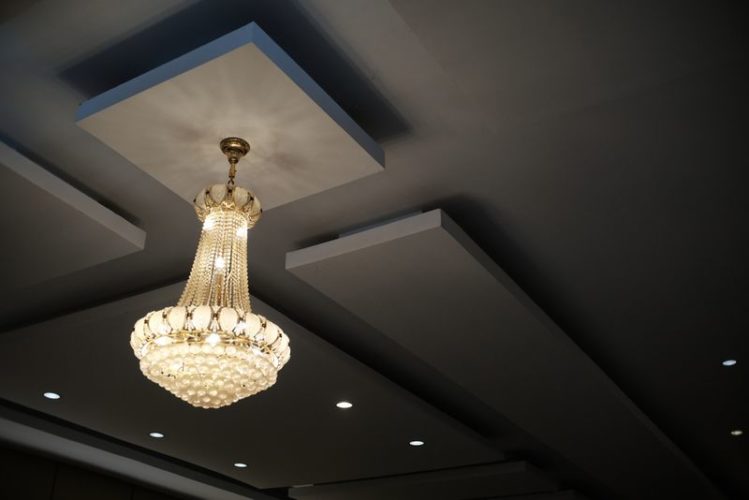 Yes, it must stick to the overall theme. Please don't forget the ceiling.
Your ceiling brings everything together. Each one of your theater's components is Under the Same Roof. (No, really, it's even on Netflix right now.)
If you skimp the extra layer of paint on your ceiling, it will stick out like a sore thumb. It won't be easy to ignore since it will most likely be the largest component in the room.
Don't opt for white. If you stick to the color scheme, ensure it won't be the lightest color of the bunch.
If the Screen Isn't Pointed at It, Why Does the Color of My Ceiling Matter?
Your floors and ceilings need to be the most muted components in the room to help let other features shine better.
No one will notice the little vintage popcorn maker in the corner of your white floors if your ceilings blind your guests on their way in.
Additionally, while the screen isn't pointed directly at it, beams of light projecting off your screen come out in a cone shape.
Think of a pointy ice cream cone; wherever your screen is, that's where the smallest tip goes. As it casts light out, its trajectory gets wider, all the way to the other end of the room.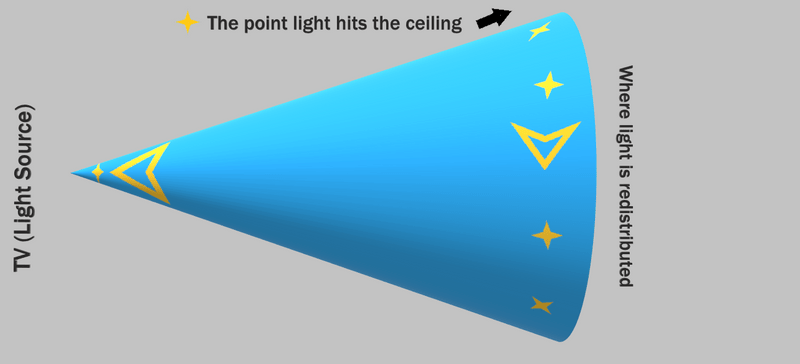 This is what your TV's light distribution looks like.
With lighter ceilings, the light will be absorbed and reflected downward.
Instead of encapsulating the whole room directly, light rays will be redistributed.
Where the light first hits your ceiling depends on the configuration of your room. Wherever your ceiling absorbs even the smallest light, it's going to let it shine!
It will shine all the way to the top of your guests at the center until reaching the back rows of the room.
It can sour the experience for everyone in the room.
You have two light sources to worry about if you have a projector instead of a TV.
It will be like two cones of light intertwined at the center of your room.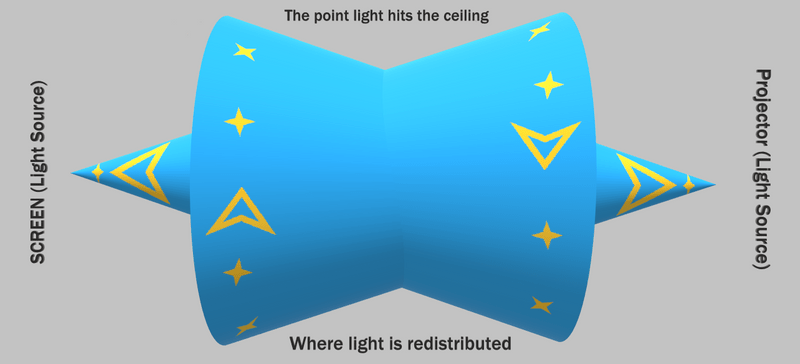 That's twice as many of your guests affected during your showing.
The vicious cycle of light redistribution will go on and spread throughout.
If you make it the darkest part of your room, the less likely your room will be infested by improper light distribution and complaining guests.
Additionally, the pin lights that go best with home theaters are better accentuated by a darker canvas.
If you don't want to incorporate any fancy light fixtures, there are some things you can add after everything is built.
Smart LED Strip Lights are a great way to add a cinematic twist to your home theater. They are inexpensive and boost your room's overall vibe.
These neon installations can do wonders if you want to give your home theater a red carpet afterparty ambiance.
Installing lights isn't the only thing you can do for your home theater.
If you want to save a few bucks, you can paint the whole thing yourself.
Don't forget to rent a ladder for the ceiling.
How Do You Paint a Home Theater Room?
First, let's start by saying you can always call a guy. Some professionals specialize in cinematic endeavors such as this one.
However, if you want to take on the project yourself, remember these tips and techniques because they actually work!
Stick to darker colors.
Don't forget to choose paints that fight off mold and mildew.*
Make your floors and ceilings the darkest out of your chosen palette.
One solid color for all walls is best, but if you want variety, at least stick to one color per wall.
Don't add gloss anywhere! High-gloss coating for any paint can render it reflective no matter how dark it is. Always choose a matte finish.
*Your new room will house many electrical components which conduct heat, and you will need various air conditioning systems. Any excess moisture that leaks into cracks can lead to mold growth.
(No, that's not a movie pun. It's a very real problem most American households face regularly.)
There are things you can do to protect your room's paint job. Opt for water-proof primers and sealants before and after painting your walls and ceilings.
Don't forget to opt for matte finishes.
What's the Best Finish for My Home Theater's Paint?
Remember, your objective is to reduce overall light redistribution.
While picking out the right color matters, finishing it off with high gloss is counter-productive.
Finishing paint is transparent, arguably the "brightest" of all colors, but its highly reflective properties are the real problem.
Transparent isn't a color. It's its absence, and whatever is underneath is highlighted and showcased by extreme gloss.
The best thing you can do for your theater room is to finish it off with a matter coating .
It helps deflect light and mute colors further.
It may suffer from wear and tear faster but if you want the most professional-looking home theater, remember these two things:
Mute & Matte.
End Credits
That's all, folks! (and that's the last one of those you have to read tonight.)
More mutable colors like black and off-black colors are great, but you can integrate multicolored accents.
Please keep it on the darker spectrum of colors, and you're golden!
Don't forget to prioritize your floors and ceilings, and always finish with a matte sheen.
We can't wait for your home theater's premier. We're on the edge of our seats!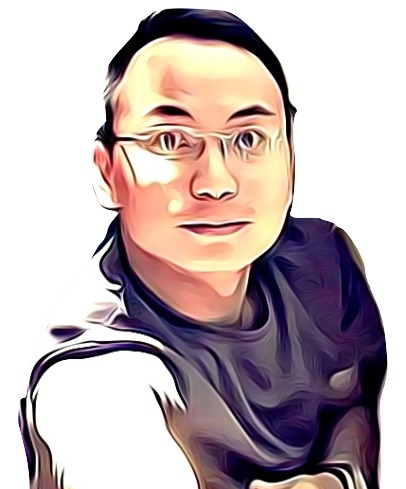 Vance is a dad, former software engineer, and tech lover. Knowing how a computer works becomes handy when he builds Pointer Clicker. His quest is to make tech more accessible for non-techie users. When not working with his team, you can find him caring for his son and gaming.