There was a time when owning a laser pointer was nearly impossible. Just the thought that you could walk into a store and walk out with a laser pointer seemed far-fetched.
Decades later, it's a reality. Even kids can own a laser of any type. Laser pointers are now available and built for several functions, including self-defense.
Laser pointers for self-defense are used to blind or disorient an attacker to allow you to escape or defend yourself. A high-powered laser in the kilowatt range can do sufficient damage to a person.
There are actually multiple ways you can use a laser pointer as a self-defense device:
You can use the pointer independently to disorient or blind an attacker
You can use it in connection with your gun to help you aim at your target when shooting
You can use it in connection with pepper spray, although this is very uncommon
In this post, we will share our thoughts on the best laser pointers for self-defense as we also guide you on what important features to look at when buying one for yourself or your loved one.
IN A HURRY? HERE ARE OUR TOP PICKS
Barska GLX 5mW Green Laser
Guard Dog AccuFire Pepper Spray with Laser Sight Top - Easy Use and Highly Accurate - Keyring - Black
Pinty Compact Tactical Red Laser Sight with Picatinny Mount Alan Wrenches for Hunting - Easy and Bright
Barska GLX 5mW Green Laser
Guard Dog AccuFire Pepper Spray with Laser Sight Top - Easy Use and Highly Accurate - Keyring - Black
Pinty Compact Tactical Red Laser Sight with Picatinny Mount Alan Wrenches for Hunting - Easy and Bright
5 Best Laser Pointers for Self Defense
After countless hours of intensive research, here are the five best laser pointers for self-defense and our genuine thoughts on each pointer:
1/ World's Only Laser Sight Pepper Spray, Guard Dog
This is the only laser pointer of its kind. It comes with a pepper spray for double defense!
It's actually a keychain pepper spray with a built-in laser, you push down a button to activate the laser. The laser on the spray is used to ensure that you don't miss your target when aiming.
The Guard Dog AccuFire keychain pepper spray is lightweight and compact. You can go anywhere with it as it discreetly fits onto your keychain.
The 18% OC pepper spray formula also contains a UV dye that is extremely difficult to wash away, for easy assailant identification. So even if the attacker walks away, they can always be identified later by police.
The pepper spray laser fires up to 16 feet away, which is impressive for such a small innovative weapon.
The compact design of the pepper spray makes it fit naturally in your hand. This makes it easy and convenient to power on the go. The device features a built-in safety lock, so there is no chance of accidental discharge.
As a bonus, you get free pepper spray replacements for life! Consider it lifetime protection.
What we like
Pepper spray to disarm or disorient the attacker
Free pepper spray refill for life
Easy push-down button for laser activation
Non-washable UV dye for assailant identification
Non-leaking spray so no chance of self-harm
Compact and lightweight, making it portable
What we don't like
You may need a couple of trials to learn how to use the laser pepper spray device
World's first and only pepper spray with laser sight on a keychain
2/ SDLaser 301
Green SDLaser 301 burning matches and balloon (10% Off Coupon: Y10P)
SDLaser 301 is a relatively high-power laser pointer. It can actually set paper on fire, pop balloons, and light matches. For the price, it's definitely a great buy.
What we liked most about this laser pointer is that you can adjust the beam. This makes it a versatile pointer.
For instance, you can adjust the beam to be wide when walking your dog at night, and if you suspect an attacker is coming your way, you simply narrow the beam to disorient them. The beam is visible even during the day so you can use it anytime.
With a wavelength of 532 nm, a range of 5 km, and an output power of 5 mW, this laser pointer is built to last. It's made of aluminum which is considerably durable despite being lightweight.
The SDLaser 301 comes as a package, including a lanyard, two keychains, a 18650 battery, a battery charger, and the flashlight-shaped pointer.
What we like
Easy to use even for beginners
Powerful adjustable beam
Built to last
Includes a battery and charger
What we don't like
The beam is way too bright; you may need to wear safety glasses when operating it.
3/ Barska GLX 5mW Green Laser
Sale
The Barska GLX laser is another great quality versatile laser pointer that can be used for self-defense as well as other outdoor activities. You can even mount it on a telescope.
Just like the SDL 301 model, it is built to last so you can be sure it won't break down on you. It is made of a strong and durable aluminum body.
The green laser has a high-intensity beam that makes it easy to aim at targets and is powerful enough to disorient any adversary.
It fits in your hand perfectly and is therefore comfortable to use. It is also easy to operate, and with the adjustment knob, you can control the brightness.
What we like
Can be mounted on an instrument
Beam brightness can be adjusted
Strong and durable build
What we don't like
You have to continuously hold the on/off switch, which can be tiring.
Barska GLX 5mW Green Laser Sight AU11404
4/ Sightmark LoPro Green Laser Sight
The Sightmark LoPro is a high output class 3a green laser perfect for hunting and climbing.
It's a compact laser sight with a rather low profile design complete with adjustable knobs for windage and elevation. It's available in either dark brown or black.
With a range of up to 50 yards during daylight and 600 yards in the nighttime, this green laser sight can run for up to 27 hours on a single CR123A battery. Too bad that it doesn't come with a rechargeable battery.
Sightmark LoPro laser sight is ideal for close quarters and dimly lit environments where an attacker can hardly see you. It can also be used on rainy days since it's waterproof.
The 520 wavelength laser sights mount securely to Weaver and Picatinny rails, it is lightweight, and the pressure pad-operated ON/OFF switch makes it super easy to use.
What we like
Low-profile, compact, and lightweight design
Quick and easy to adjust the laser
Easy push buttons for activating the laser
Compatible with Picatinny and Weaver rails
What we don't like
Does not come with a rechargeable battery.
Sightmark Lopro Green laser
5/ Pinty Compact Tactical Red Laser Sight
The Pinty laser sight is pretty affordable; you can be sure not to break the bank with this one. It is well made with ultra-solid yet lightweight anodized T6061 aluminum body with a black matte finishing.
With a wavelength between 655 – 835 nm and an approximate range of up to 150 feet at night, this red laser has an impressive accuracy when properly adjusted. This red laser is bright even in intense sunlight.
Pinty sight laser is easy to mount on rifles Even though it mounts securely, the screws need to be locked with a bit of Loctite or glue because it becomes loose pretty easily.
There have been a lot of complaints of the screws stripping shortly after the first few uses.
It comes with an easy-to-use ON/OFF switch, and the package includes three batteries, two wrenches, and a red laser sight with a mount.
What we like
Easy to mount and operate
Accurate aiming
Consistent brightness
Compact, lightweight, and affordable
What we don't like
It becomes loose very easily
Pinty Red Pistol Laser Unboxing/Review
What To Look For In A Self Defense Laser Pointer?
Since the introduction of lasers to the consumer markets, there have been countless laser models ranging from military-quality lasers to simple pet lasers that operate on extremely low power.
Each of these laser pointers has its own set of features that make them ideal for different situations. For our case, we are looking at self-defense lasers, which are high-powered lasers between 5-500mW.
Here are the factors to consider when buying this category of laser pointers:
The Power Output Of The Laser
When looking for a self-defense laser pointer, you want to get one in class 3b. In this class, you will find laser pointers ranging between 5 to 500 milliwatts.
Laser pointer power output is usually measured in milliwatts. The higher the output the stronger the beam and the more damage it can cause.
For instance, a 100mW laser is strong enough to cause minor fires like lighting a cigarette or burning paper, while a 5 mW laser pointer is mild in power and can only do slight damage if aimed at the eyes.
Laser pointers in this category are strong enough to disorient or scare away an attacker which is what we are looking to achieve with a self-defense laser.
Size
When choosing a laser pointer for self-defense or any weapon for that matter, you want to go for a compact size so that it's as discreet as possible.
You also want to go for a portable size since you will be carrying it around with you all day.
We've found laser pointers that are slightly larger than your hand tend to be the best size. These are more comfortable to hold and easier to control than palm-size pointers.
Aside from the size, laser pointers can also come in disguised shapes like the keychain laser pointers. However, the most popular are the pen-shaped laser pointers.
Laser Color
When they first came out, laser pointers were red in color, but as technology progressed, they are now available in green as well as blue colors. The blue laser is actually violet in color but often seen as blue.
Each of these colors differs in wavelengths and each is appropriate for certain uses. Even though the red laser is the most popular, it is less powerful when compared to green lasers.
On the other hand, a blue laser is the least powerful of the three and, therefore, not best suited for self-defense.
The best laser color for self-defense is the green laser, followed by red. These are powerful enough to be seen over greater distances and potentially more dangerous.
Green lasers are way brighter than red lasers. They are four times brighter, hence four times more visible than the red laser. And because they are brighter, they require more energy.
Take note however that it is a federal offense to point high-powered lasers at airplanes. You can familiarise yourself with laser safety laws here, so you don't find yourself on the wrong side of the law.
Cost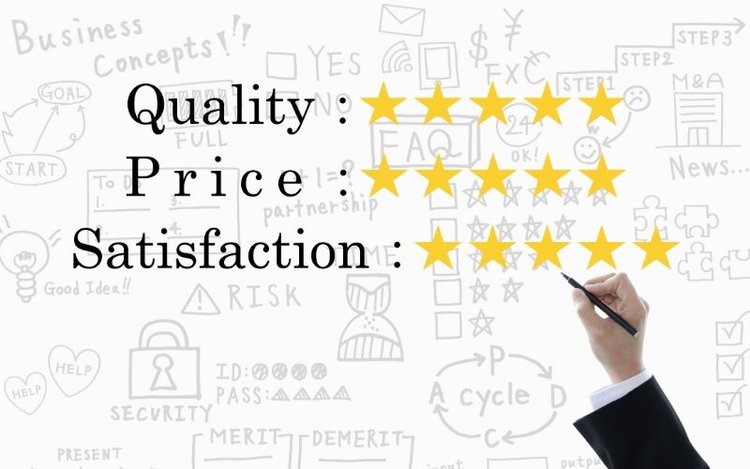 Laser pointer costs vary greatly depending on the power output. The higher the wattage, the more costly it is, and similarly, the lesser the wattage, the less costly it is.
Red lasers are the least costly of all colors. This is because they are the easiest and cheapest to manufacture. On the other end of the spectrum, green laser pointers are generally more expensive.
Laser Pointer Safety
While you are seeking a laser pointer to scare off an attacker or adversary, you also need to make sure that the laser pointer does not end up harming you instead.
This is more an issue of you knowing how to use the device.
A high-power laser pointer can cause instant blindness, skin burns, severe optical damage, or even fire, if not properly used.
That said, get a laser pointer that will scare or minimally harm the attacker and not cause severe damage. Just like guns, laser pointers could end up in the wrong hands, and this could be your kids or loved ones.
Don't just rely on the salesperson's word, read the manufacturer's safety precautions of the laser pointer you wish to buy.
Durability
If you are going to spend your hard-earned money on a laser pointer to keep you safe, why not invest in a durable one? A laser that you can count on to keep you safer for longer.
It's pretty easy to tell a durable laser pointer. Usually, the first indicator is the price.
And while a low price may not always be an indicator of low quality, a cheap pointer is usually made from a soft casing that can easily crack or get damaged when storing or transporting. Therefore, you want to go for a hard casing.
Wrapping up
Laser pointers for self-defense can be the regular pen-shaped pointers or the laser sights mounted on rifles, and one can choose either depending on what they are protecting themselves from.
A hunter, for instance, would most likely be looking for a laser sight, while a dog owner would be looking for a laser pointer, to protect themselves when walking their dog at night.
When choosing a laser pointer, it's important to consider the power output, brightness, laser color, beam adjustability, and durability.
If you are still unsure of what laser pointer to go for, we recommend the Barska GLX 5mW Green Laser for its versatility. You can use it as a regular pointer or mount it on any instrument.
Barska GLX 5mW Green Laser
Guard Dog AccuFire Pepper Spray with Laser Sight Top - Easy Use and Highly Accurate - Keyring - Black
Pinty Compact Tactical Red Laser Sight with Picatinny Mount Alan Wrenches for Hunting - Easy and Bright
Barska GLX 5mW Green Laser
Guard Dog AccuFire Pepper Spray with Laser Sight Top - Easy Use and Highly Accurate - Keyring - Black
Pinty Compact Tactical Red Laser Sight with Picatinny Mount Alan Wrenches for Hunting - Easy and Bright
Last update on 2022-05-20 / Affiliate links / Images from Amazon Product Advertising API.