Gaming can be fun—whether it's on a smartphone, handheld gaming console, or gaming monitor. However, things reach another level when you play your favorite games on a large 4K TV.
The major size increase is not just a lot more immersive, but you start to appreciate the details and the visual dynamics of the games more. It's like upgrading from an IEM (in-ear monitor) to a pair of high-end headphones.
So, what is the best 4K TV for gaming? Or what is the ideal TV size?
4K TVs come in different sizes—ranging from 40 inches to 85 inches or more. The adage "the bigger, the better" doesn't hold water here, however. You must find that sweet spot between TV screen size and resolution, especially for gaming.
Keep reading to learn more about that ideal size and the multiple variables involved.
Does Your TV Size Affect Gaming?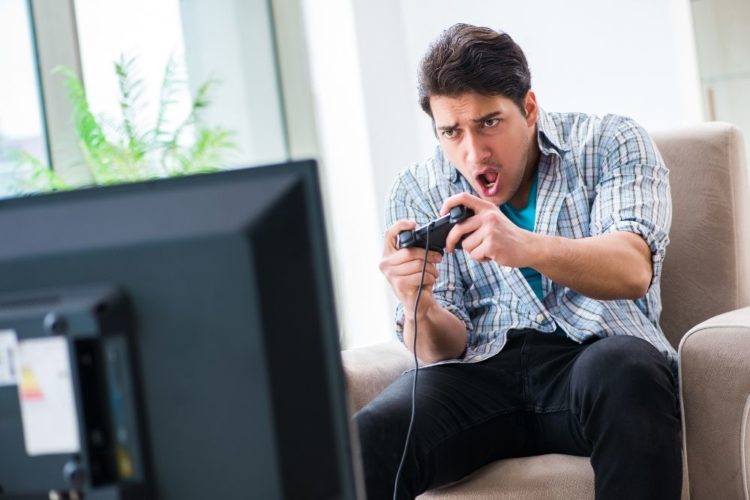 Yes, your TV size does affect gaming. A relatively small TV can make it harder to discern the details. On the other hand, a massive TV could come across as a bit too overwhelming.
But more than the TV screen's size itself, the resolution matters or impacts your gaming experience a lot more.
A 43-inch 1080p TV and a 4K television of the same size would provide completely different gaming experiences. Not to mention, screen resolution and size ascertains the ideal viewing distance.
TV size doesn't directly impact frame rate, input lag, and other aspects vital to gaming.
For instance, a 43-inch TV could have a 120 Hz refresh rate, and a 55- or 65-inch TV from another line or brand may only have 60 Hz.
But since the bigger 55- and 65-inch TVs are usually positioned at the premium end of things, they are likelier to pack in specific gaming-friendly features, such as a high refresh rate.
What Is the Best 4K TV Size for Gaming?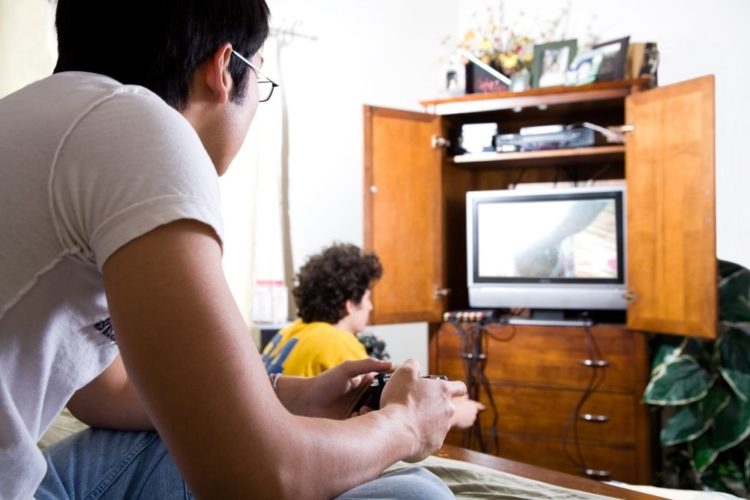 There's no "best 4K TV size for gaming". The ideal size depends on various aspects—such as how big your space is, how far you sit from the screen, etc.
A 43- to 55-inch 4K TV suits most people's needs. If you're a heavy TV user, a 55-inch would be ideal.
A 32-inch TV is closer in size to a gaming monitor and may seem like the ideal replacement for a 32-inch gaming monitor.
But because 32-inch 4K TVs do not exist, and the screen size is too small to view from afar, the size is usually not considered for gaming on a TV.
A 65-inch TV, on the other hand, is a bit too large. But if you've got the space and can afford to sit further back from the TV while gaming, then why not.
Below we discuss the space considerations, resolution, and gaming hardware in detail to help you understand how they play a role in determining the ideal gaming TV size.
Viewing Distance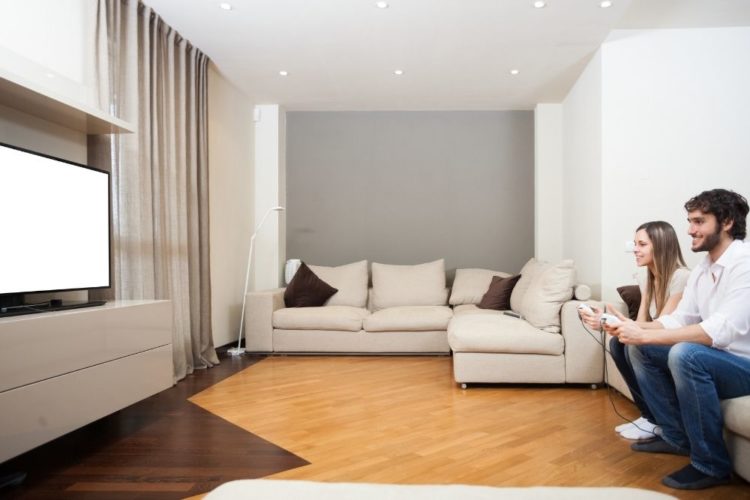 The perfect viewing distance for any 4K TV is usually 1 to 1.5 times the TV screen's diagonal width. The table below lists out the viewing distances for different 4K TV sizes:
| | |
| --- | --- |
| Screen Size (in inches) | Viewing Distance (in feet) |
| 40 | 3.5 to 5 |
| 43 | 3.5 to 5.5 |
| 55 | 4.5 to 7 |
| 65 | 5.5 to 8 |
| 75 | 6.5 to 9.5 |
| 85 | 7 to 10.5 |
The viewing length range for gaming or even watching traditional content on a 43- to 55-inch television is 3.5 to 5.5 feet.
The optimal is 4.2 feet, but that could vary across individuals. Some may like to be seated closer during gaming and prefer to move back when watching movies or consuming regular TV content.
And some individuals are fine sitting 8 to 9 feet away from a 55-inch 4K TV for gaming. At times, the specific game may also ascertain viewing distance.
Therefore, the above numbers are only meant to provide guidance and not decide how far you must sit from your 4K TV.
Kindly note, the above viewing distance numbers do not apply to 1080p TV. For Full HD TVs, the distance is usually greater. Below are the numbers:
| | |
| --- | --- |
| Screen Size (in inches) | Viewing Distance (in feet) |
| 40 | 5 to 8.5 |
| 43 | 5.5 to 9 |
| 55 | 7 to 11.5 |
| 65 | 8 to 13.5 |
| 75 | 9.5 to 15.5 |
| 85 | 10.5 to 17.5 |
Gaming Hardware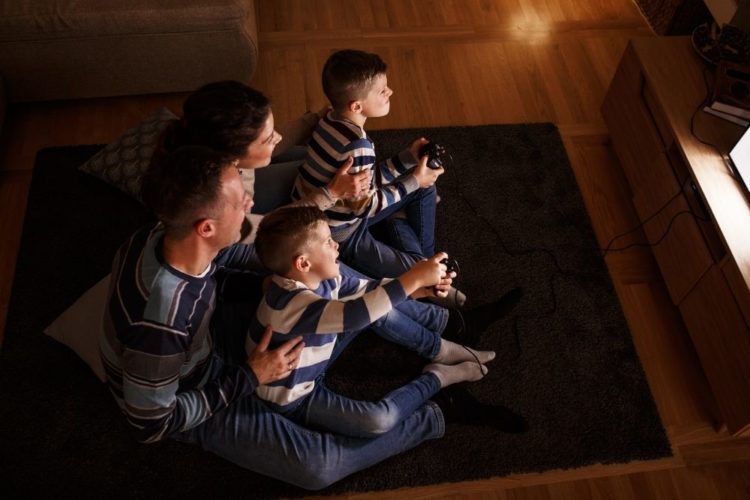 Your gaming hardware also determines your 4K TV's size. If you play on a console, such as the PlayStation 5 and Xbox Series X and S that support 4K screens, you can afford to sit much further from the screen due to the wireless nature of the setup.
If, however, you've connected your gaming PC to your TV and use gaming peripherals, such as a keyboard and mouse, there's only so much further away you could move from the TV.
In those circumstances, your ideal TV size would be between 32 and 43 inches. But even that size is relatively large, considering 4K gaming monitors are usually 27 inches or in that vicinity.
But since a 27-inch or smaller TV is not an option, you'll have to make do with the comparatively larger 40- or 43-inch televisions.
Screen Resolution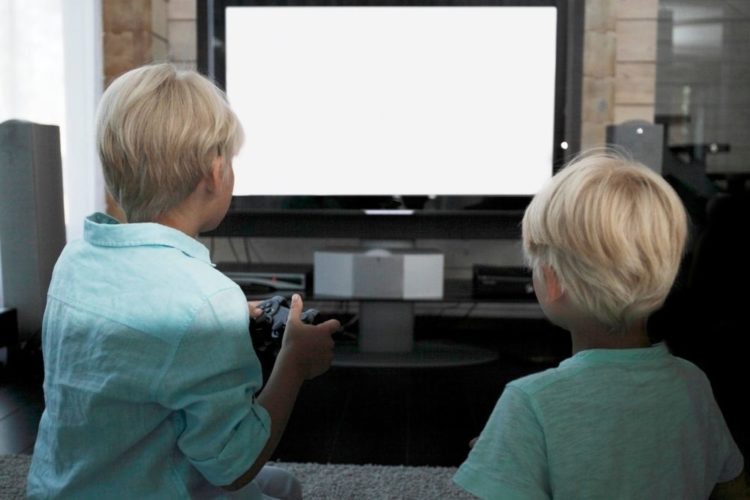 The higher the resolution, the bigger the TV can get without looking pixelated.
A 4K screen resolution is not needed with gaming monitors, as the screens are smaller than TVs, and the pixels are not jarringly visible even when viewed from close.
However, with TVs, a 1440p screen is not an option, for the viewing distance considerations discussed above.
Kindly note, the larger the TV gets, and the more advanced the screen's dynamics become, the CPU and graphics requirements of the television go up as well.
But since 4K TVs are usually hooked up to gaming consoles, the hardware prowess of those gaming devices would usually take care of the high graphics requirements.
Even otherwise, most 4K TVs generally have enough processing power to cater to advanced gaming needs.
Top 4K TVs for Gaming
The TVs below are excellent 4K TVs in general. However, they shine through even more when viewed through the gaming lens.
1. LG OLED C1
Sale
If you own the Xbox Series X or the PlayStation 5, the LG C1 will provide you with a killer gaming experience.
Available in 48- to 83-inch screen sizes, the C1 is a high-quality, competitively priced OLED TV that packs in pretty much all features a gamer would look for in a 4K TV.
The high contrast ratio and exhilarating black levels take the gaming experience to a higher level. And the "Game Optimizer" menu lets you quickly alter contrast, brightness, and variable refresh rate (VRR) levels on the fly.
You can expect 4K gaming at 120 FPS (thanks to the HDMI 2.1 ports), alongside a low 1ms input lag. Dolby Atmos and Vision HDR help you extract the maximum out of your Xbox Series X.
The TV has four HDMI 2.1 ports. Besides supporting 4K at 120 FPS, the HDMI ports facilitate VRR (which includes AMD FreeSync and Nvidia G-Sync), eARC (enhanced audio return channel), and auto low latency mode (ALLM).
The HDMI ports capably utilize the latest graphics on various high-end gaming consoles and graphics cards. There's also a standalone analog audio or headphone output port, three USB 2.0 ports, LAN port, RF input, etc.
The LG OLED C1 is one of the hard-hitting 4K TVs, without a doubt.
Pros
Highly gamer-friendly
Game Optimizer menu
Quality OLED panel for a relatively low price
A bevy of ports
Sleek, modern styling
Cons
It doesn't get too bright
Image retention could be a concern
2. Sony X90J
Sale
Unlike the LG OLED C1, the Sony X90J has an LCD panel. Although LCD is considered a step below OLED, Sony doesn't look at it that way. It believes LCD and OLED are equals or have their respective strengths and weaknesses.
Thanks to the full array or direct backlighting, the Sony X90J's LCD gets plenty bright.
The specialized lighting method helps achieve black levels similar to OLED panels while maintaining the brightness of standard LED panels. And then, the Triluminos Display takes care of the color range and reproduction duties.
The built-in Cognitive Processor XR ensures the visuals and audio are life-like. Perhaps, the cherry on the cake is the IMAX Enhanced certification, which implies "best multichannel audio, HDR and 4K performance".
Gamers would appreciate the 4K/120 Hz capability, thanks to the HDMI 2.1 ports. One is an eARC port. There's also ALLM for smooth, unhindered interactivity and viewing. The 17.2ms input lag isn't the lowest but is still minimal for high-profile gaming.
The TV misses out on quite a few features and services that could further boost gaming performance. Sony realizes that, and the word is it would further enhance the experience with future software updates.
Regardless of what the future holds for the model, the Sony X90J still offers a lot of 4K TV and gaming prowess in its current state.
Pros
Excellent LCD screen
Punchy HDR performance
Solid audio capabilities
Robust build
Good selection of ports
Cons
Relatively pricey for an "LCD"
No variable refresh rate (yet)
3. Samsung AU-8000
The Samsung AU-8000 might seem like a surprise entry on this list, especially when considering the other 4K TVs Samsung has up its sleeve. But hear us out.
Replacing the outgoing TU-8000, the AU-8000 is a solid value offering that borrows a lot from its bigger siblings, such as the TU8500. The VA panel and the 60 Hz 4K screen are identical to the TU-8000, but the newer TV has a much slimmer profile.
The Crystal LCD UHD display provides detailed images and handles colors naturally. The black levels are surprisingly a strong point too.
As stated above, the TV doesn't do 120 FPS, but 60 Hz on the beautiful screen still looks and performs just fine, even when gaming. Moreover, the input lag is low, and the response time is decent. There's ALLM support thrown in for good measure as well.
There are three HDMIs, two USBs, a LAN port, and over-the-air antenna input for your wired connectivity options. Do not expect HDMI 2.1 for the price. There's also a fiber-optic input port to connect an external audio system.
If you're on a budget and aren't looking for the most cutting-edge gaming features, the AU-8000 is a solid option. This one is for the price-conscious group.
While TCL, Vizio, Hisense, etc., have their value offerings too, they, unfortunately, aren't "Samsung", which incidentally matters to many buyers.
Pros
Modern, attractive design
Excellent contrast levels for a VA panel
Solid 20W built-in speakers
Reliable Tizen OS platform
Sleek remote with clicky buttons
Cons
HDMI 2.1 is conspicuously missing
Not the best HDR performance
Here are some honorable mentions or TVs that almost made the list:
TCL Class 6 Series: The TCL Class 6 Series of 4K TVs is a solid option for gamers, striking a proper balance between cost and features. The TV has an excellent QLED 4K 120 Hz display, a couple of HDMI 2.1 ports, low input lag and screen tearing, and several other pro-gaming features to boot.
Samsung QN90A: Samsung's QN90A comes with an exceptional QLED display that does a 120 Hz refresh for smooth gaming. There's also variable refresh rate support. The Ultrawide GameView lets you switch to a 32:9 or 21:9 aspect ratio, offering a more cinematic appearance to your games.
LG OLED CX: The LG CX has a 4K display with a 120 Hz refresh rate, and it also packs in G-Sync support. It's no slouch compared to our top recommendation, the LG C1. But the OLED C1 one-ups the CX with its better gaming options.
TCL 55" Class 6-Series 4K UHD QLED Dolby Vision HDR Roku Smart TV - 55R625
SAMSUNG 65-Inch Class Neo QLED QN90A Series - 4K UHD Quantum HDR 32x Smart TV with Alexa Built-in (QN65QN90AAFXZA, 2021 Model)
LG OLED55CXPUA Alexa Built-In CX 55" 4K Smart OLED TV (2020)
TCL 55" Class 6-Series 4K UHD QLED Dolby Vision HDR Roku Smart TV - 55R625
SAMSUNG 65-Inch Class Neo QLED QN90A Series - 4K UHD Quantum HDR 32x Smart TV with Alexa Built-in (QN65QN90AAFXZA, 2021 Model)
LG OLED55CXPUA Alexa Built-In CX 55" 4K Smart OLED TV (2020)
Sony A80J: The Sony XR A80J is an excellent OLED TV with decent gaming features. It could probably be the best bang-for-the-buck TV from Sony's stable. It fares better than most Samsung and LG TVs concerning general TV use but lacks a bit in high-end gaming specs.
Hisense A6G: Although an entry-level 4K TV, the A6G features an excellent panel that delivers solid details and dynamics. There's also Dolby Vision support, a host of ports (including four HDMI 2.0 ports), etc., that should spice up your gaming sessions.
Sony A80J 55 Inch TV: BRAVIA XR OLED 4K Ultra HD Smart Google TV with Dolby Vision HDR and Alexa Compatibility XR55A80J- 2021 Model
Hisense 50A6G 50-Inch 4K Ultra HD Android Smart TV with Alexa Compatibility (2021 Model)
Sony A80J 55 Inch TV: BRAVIA XR OLED 4K Ultra HD Smart Google TV with Dolby Vision HDR and Alexa Compatibility XR55A80J- 2021 Model
Hisense 50A6G 50-Inch 4K Ultra HD Android Smart TV with Alexa Compatibility (2021 Model)
FAQs
Is a 43-inch TV good for gaming?
There's no right TV size for gaming, since multiple variables are at play. If your space is compact, a 43-inch TV seems like a good size. But if you have a large living room and sit quite far away from the TV, a 43-incher can leave you squinting.
If you've zeroed in on a 43-inch TV, make sure it's 4K and has all the ports to plug in your gaming console and other hardware. A Full HD 43-inch TV (if it exists) is pretty much a not-buy.
A 43-inch 1080p TV, however, is quite acceptable for regular TV duties.
Conclusion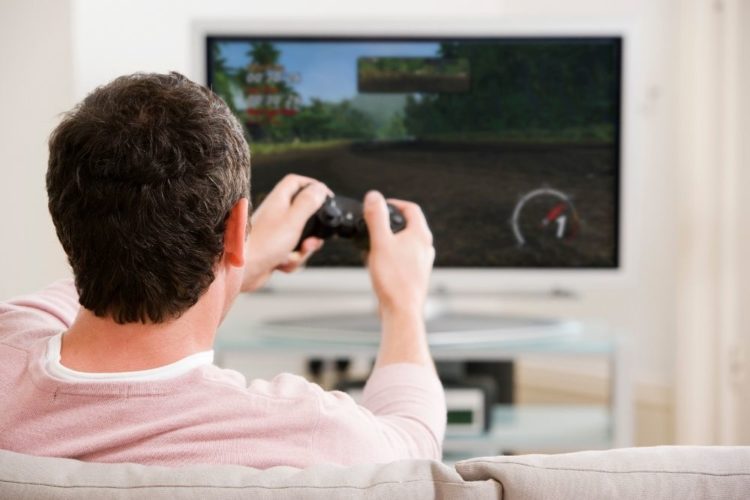 For a TV to work with a gaming console, all you need is an HDMI port. But, to add layers of fun to the gaming experience, the TV's size and resolution come into play.
Whether buying a TV for regular use or gaming, 4K is the standard. And it ascertains how big you could go with your TV, as clearly explained above.
Also, because 4K TVs usually sit in the upper echelons of TVs, they're likely to provide HDR, low-latency gaming modes, improved frame rates, advanced built-in audio capabilities, and other pro-gaming features.
The above are excellent 4K TVs for gaming and everything else. But if you're looking at other options, ensure they meet the criteria discussed above.
Last update on 2022-08-07 / Affiliate links / Images from Amazon Product Advertising API.