Interest in laser projectors for home entertainment has been steadily increasing since around 2015 when the projectors became available on the market.
Most people want to know: Are laser projectors good for home theaters?
Find out below as we answer this question and discuss the best types of projectors for home theater.
Are Laser Projectors Good For Home Theaters?
Laser projectors are a great choice for home theaters.
For the best home theater experience, you want a projector with:
Adequate brightness
Color accuracy
A high contrast ratio
And a laser projector offers all that.
Here are some of the features that make laser projectors perfect for home theaters:
High Contrast Ratio
Laser projectors have a high contrast ratio, with some manufacturers quoting values above 20,000:1.
A high contrast ratio makes the difference between the brightest and darkest shades more noticeable. This helps bring out the details in the image, making it look realistic.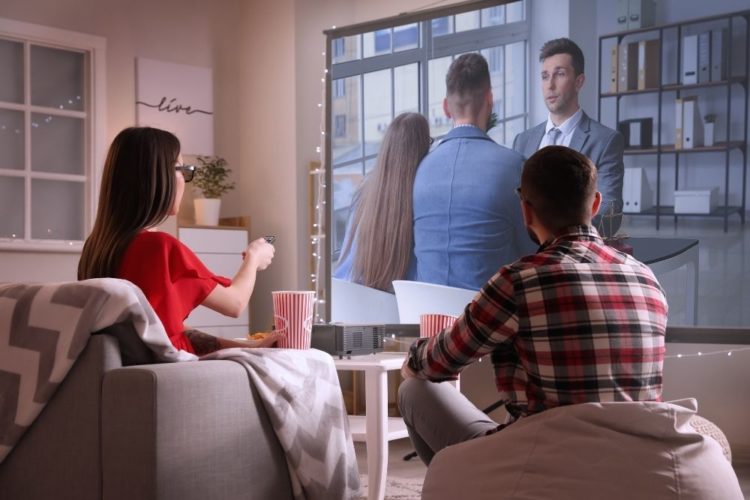 High and Steady Brightness
Laser diodes produce stable luminance that reduces at a slow, unnoticeable rate. So you enjoy the same high level of brightness over the years.
Compare this to lamp-based systems, which become dim over time. The image quality also gets poorer over the years.
Color Accuracy
Another benefit a laser projector offers is color accuracy.
Laser-based projectors usually offer a broad color gamut, with most of them conforming to Rec.709 and DCI-P3 standards.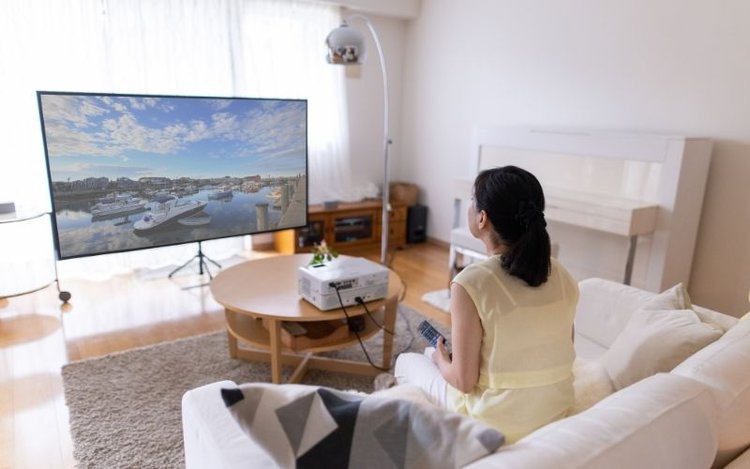 Most pair these color standards with a low Delta-E value to ensure the projector reproduces accurate colors.
Delta-E is a system that measures the color difference between the original color standard and the displayed color as perceived by the human eye.
The system uses a 0-100 scale, with 0-1 representing an imperceptible difference.
Top laser projectors have a single-digit Delta-E value. The best have a Delta-E of 3 or less, meaning the projected colors are as close as possible to the colors captured in the original image.
Instant On/Off
Laser projectors have an instant on/off mechanism.
They do not have a long warm-up or cool-down process. So the projector is ready to use as soon as you turn it on, and it turns off as soon as you switch off the power button.
Long Lifespan
Lastly, laser projectors have a longer lifespan than lamp-based projectors and therefore offer a greater value for your money.
The average laser projector's light lasts 20,000 hours, while a projector lamp will last 2,000-6,000 hours. Someone using a lamp-based projector will replace the lamp 3-10 times before your laser projector reaches its end of life.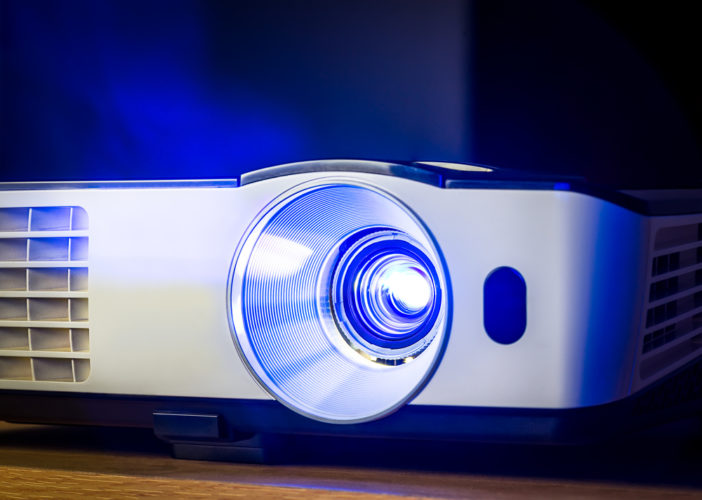 These replacements can add up to thousands of dollars. So even though the initial price of a lamp-based projector may have been low, the maintenance costs will increase its overall cost.
With a filter-free laser projector, however, there won't be additional regular running costs once you pay the initial purchase price. Note that you'll still need to service the projector as recommended by the manufacturer, but the unit will be low maintenance.
With laser projectors that use filters, your biggest maintenance expense will be replacing the filter. Most models have an extended filter replacement cycle, often more than 5,000 hours.
Some modern units don't need a filter change until after 20,000 hours, meaning you may never need to change the filter. Or, at most, you may only do it once over the projector's lifetime.
Which Type of Projector Is Best for Home Theaters?
While it's impossible to single out one model as the perfect home theater projector, you can choose the best type based on projection technology.
Each projector type has its strong and weak points. You just have to figure out which aspects you shouldn't compromise on, then choose the projector that offers those.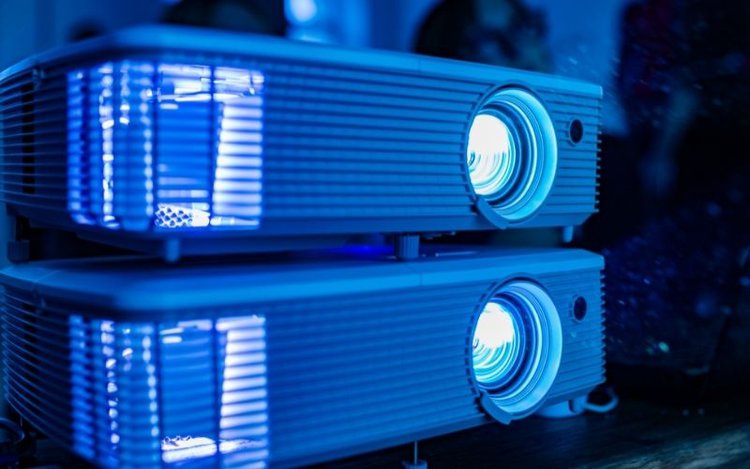 This way, even though your chosen unit may be lacking in some ways, it will have the main ingredients that make for a superb home theater experience.
When comparing projectors, you'll need to look at two things:
Light source technology
Projection/imaging technology
Light Source Technology
The three light source systems to choose from are laser, LED, and lamp.
Laser vs. LED vs. Lamp
Laser and LED sources are similar in a lot of ways. They have at least 20,000 light hours and require little maintenance.
Both generate little heat, and they run quietly. So, you can enjoy your movies without interruption from loud fans and use the projector over long periods without worrying about overheating.
Laser systems are bright, with excellent brightness uniformity. In contrast, LED systems have much lower brightness levels, which may affect picture quality.
Consider the ANSI lumens value when choosing a projector.
ANSI lumen is a unit of measurement set by the American National Standards Institute (ANSI) used to determine the light output of a projector.
A high lumen value indicates more brightness.
In general, an ANSI lumen value of 2400 or more allows you to use the projector in a room with moderate amounts of ambient light.
Lamp vs LED vs Laser Projectors - What's The Difference?
If the projector has between 1000 and 2400 ANSI lumens, you can use it in rooms with low ambient light.
When the ANSI lumen value is below 1000, you can only use the projector in rooms with no ambient light.
Lamp-based systems have a maximum of 5,000-6,000 light hours, so they require lamp replacement now and then.
If you use the projector often and for long durations at a time, you'll replace the lamp more frequently than someone who uses their projector occasionally.
Some lamp-based projectors have excellent black levels and color accuracy. These give a terrific home theater experience.
But all lamp systems get dim over time. So, the image quality diminishes the longer you use the projector.
Of the three systems, laser light provides the best home theater projector images.
If you find laser projector prices a bit high for your current budget, you can consider an LED/laser hybrid. LED-laser hybrid projectors support a wider color gamut than lamp-based systems and have a high contrast ratio.
Imaging Technology
Under imaging technology, you have these three systems to choose from DLP, LCD, and LCoS.
DLP vs. LCD vs. LCoS
DLP (digital light processing) technology uses small mirrors and a color wheel to produce color. DLP projectors have one or three chips.
LCD (liquid crystal display) technology uses three LCD panels to create an image. Each panel reproduces one of the three primary colors — red, green, or blue.
LCoS (liquid crystal on silicon) technology uses a combination of liquid crystal chips and silicon backing. The liquid crystals control the amount of light hitting the silicon backing. The silicon then reflects the light to create an image.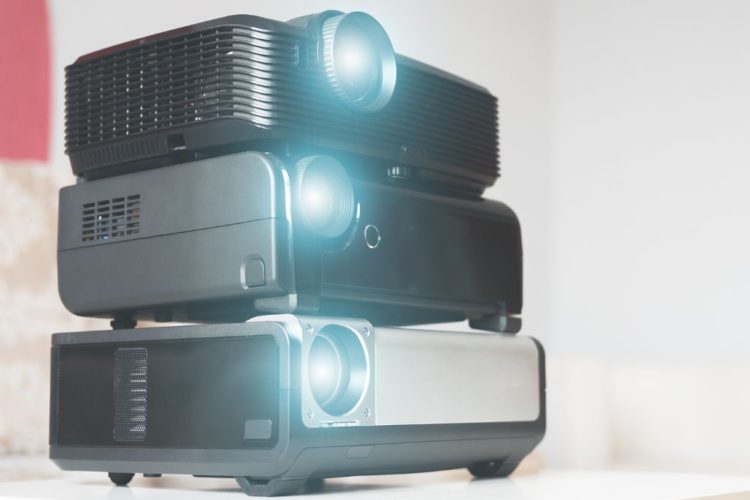 Contrast Ratio
Of the three technologies, LCoS offers the highest native contrast ratio, followed by LCD, then DLP. So, you have the highest chance of enjoying realistic pictures with an LCoS projector.
Native contrast ratio is determined by how well the chips or panels process the darkest blacks and the brightest whites. You can tell how good the contrast ratio is by comparing the two extremes in a scene.
If the contrast ratio is good, the difference between the darkest and brightest extremes will be sharp, and vice versa.
Most projectors use auto or dynamic iris to enhance the contrast ratio. But the iris won't make a significant difference if the native contrast ratio is poor.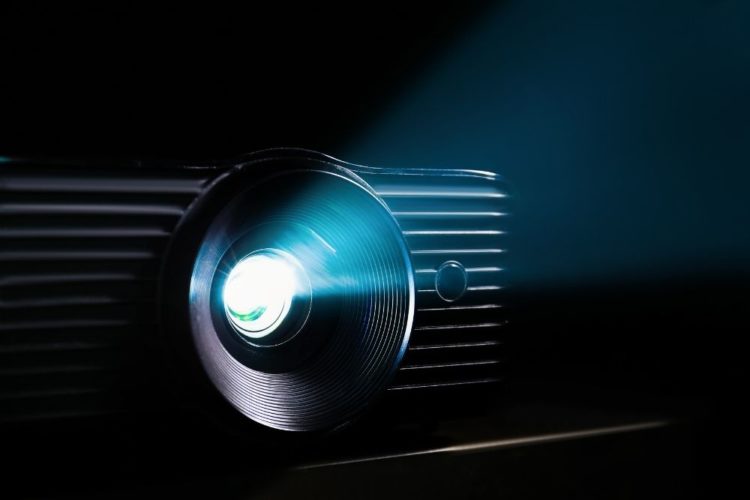 The iris works by closing (blocking light) to show dark images and opening (allowing more light) to show bright ones.
When the contrast ratio is low, the iris will open to display a bright scene. But the drawback is that the darkest parts of the scene will also be brightened and may appear washed out.
Compare that to a high native contrast ratio and what happens when the iris opens. The scene appears bright, but the darkest parts of the scene are still noticeably dark.
When choosing a projector, pick a model with a high contrast ratio. It's the most important feature in keeping the picture quality top-notch.
Brightness And Color Fidelity
Brightness levels and color fidelity are somewhat similar in all three technologies. So check the number of lumens in the projector you want to buy and the color gamut it supports.
The best projectors for home theater have a high number of lumens and a wide color gamut.
Display Errors
Some three-chip DLP and 3LCD projectors have convergence issues, which can be distracting when watching videos.
In systems with three panels or chips, each panel/chip carries one primary color. Then the three colors combine at some point just before the lens beams the image to the screen.
The convergence error occurs at this point as the colors combine. If the convergence is not smooth, viewers can see the individual colors on the edges of the image.
One-chip DLP projectors do not have this problem since a single chip carries all three colors.
But there's one error that only occurs in one-chip DLP projectors: the Rainbow Effect.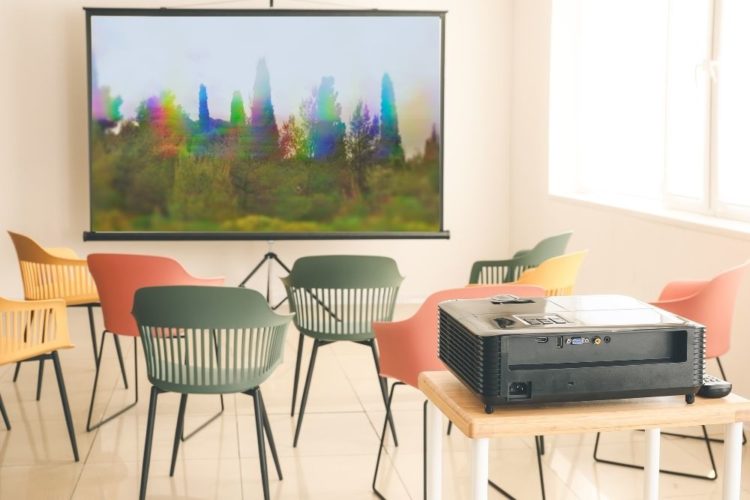 The effect shows up as a flash of colors. They appear in the form of strips that look pretty much like a rainbow.
The Rainbow Effect is usually seen when the object quickly moves or when one moves the eyes rapidly across the screen. Thankfully, it only affects some people.
Unfortunately, you can't know if a projector has the Rainbow Effect or convergence problem before using it.
Test your projector for a couple of days after buying it and see if these errors are present. It's advisable to buy a model with a return policy so you can return the projector and get a different model if you find these issues unbearable.
Oftentimes, these errors are barely noticeable and most folks simply shrug them away. But if they keep occurring to a point where they bother you, consider a replacement.
Given what you now know about the types of projectors available, I think you'll agree that a laser LCoS projector is the dream home theater machine.
Are Laser Projectors Good for Movies?
Yes, laser projectors are good for movies.
They have all the features needed to output a high-quality image, which is crucial when watching movies.
And the same features that make these projectors suitable for the home theater make them great for movie watching.
Some of the qualities that make laser projectors perfect for movies are:
High brightness
Wider color space
Better color accuracy
Check out the section above for more in-depth detail on why laser projectors are good for home theaters.
Conclusion
The best projectors for home theater have several outstanding features, including:
High and steady brightness
High contrast ratio
High color accuracy
Low heat generation
Laser projectors have all the above features, making them perfect for movies and home theater entertainment.
Last update on 2022-08-19 / Affiliate links / Images from Amazon Product Advertising API.