If you're a professional programmer, having a good monitor is your best weapon for having a productive workday.
You don't want to settle with a subpar setup as it is a recipe for frustration, headaches, and eye strain. To launch successful applications and web pages, you need to find a quality monitor that will reduce the chances of error.
But, deciding which programming monitor to choose can be overwhelming because you need to look into specifications that allow a larger viewing angle and more screen real estate to view multiple tabs.
While most people think that 4K monitors are overkill for pure programming alone, the resolution, screen size, orientation, and flexibility of 4K monitors offer more comfortable viewing angles for fewer tension headaches and reduced eye and neck strains.
In this article, let's discuss the benefits of programming with a 4K monitor.
We'll also help you choose the best monitor for your workstation.
Why Do Programmers Need Good Monitors?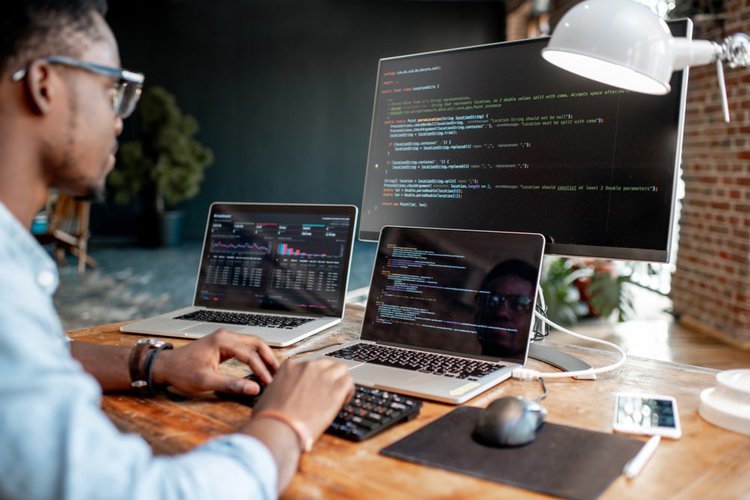 Programmers need to be backed by robust and reliable machines to apply their expansive knowledge about coding, designing, testing, and developing software and applications. They need a powerful CPU, GPU, RAM, and storage. Plus, they also need a responsive keyboard and mouse.
Good monitors are the key to achieving high outputs. These monitors are large enough for comfortable viewing distances between forty to sixty centimeters, and they are also reliable and responsive enough to handle multiple tabs at once.
Some of the more common coding errors that a programmer or developer encounters while doing their work include:
Code and stack overflow
Consumer and producer code base
Slack, emails, and research
So, to keep up with your professional work and prevent these errors, you need to have multiple tabs open at once as you work on several pages.
If you choose a monitor with low resolution, it will cause eye strain and headaches, affecting your productivity. Thus, higher resolution monitors are more likely to produce high outputs for programming.
Which Monitor Is Best for Programming?
While 1080p screens are definitely out of the picture as the best monitor for programming, there has been a long-running debate on whether 1440p screens versus 4K monitors are better for programming.
Some programmers argue that it is better to get two 1440p monitors compared to one large 4K monitor. Multiple monitors allow you to open multiple tabs without dealing with tilework and settling with smaller windows.
If you're planning to use your monitor outside work, 1440p windows are also powerful enough to handle high-speed games:
Our top choice is the LG Ultragear 27-inch QHD Gaming Monitor that can handle a refresh rate of 144 Hz and a response time of 1 ms.
It is also compatible with NVIDIA G-SYNC, so you can be confident about avoiding screen tears, lags, and stuttering.
There are also several curved 1440p monitors, which are known to provide comfortable viewing angles.
We're big fans of the GIGABYTE G27QC 27-inch Curved Gaming Monitor with a refresh rate of up to 165 Hz and a response rate of 1 ms.
While we agree that having two 1440p monitors is the best for programming, especially if you don't work with many graphics and videos, getting a 4K monitor is best for achieving optimal productivity.
Why? Let's find out in the next section.
Why Are 4K Monitors Good for Programming?
There are many reasons why 4K monitors are a worthy investment for programmers:
1. Resolution
Higher resolutions are easier to read because they provide more detail. Looking at the numbers, 4K UHD monitors have four times the number of pixels than 1080p HD monitors, producing much clearer pictures.
Aside from preventing eye strain and headaches, getting a maximum resolution monitor for programming is always best to future-proof your devices.
Yes, 2K monitors are good enough for programming, but if you have the budget, there is no reason for you to settle for less.
2. Screen Size
With the large screen size of 4K monitors, programmers can easily organize multiple full-size tabs and achieve a more productive workflow.
4K monitor sizes range from 24 to 49 inches, but the most common is 28 inches. A 28-inch 4K monitor, like the Samsung UE57 Series , is large enough for comfortable viewing, but they are still compact if you have limited desk space.
A 4K monitor is essentially equivalent to having four 1080p monitors. So, if you have a 43-inch 4K monitor like the ASUS ROG Strix XG438Q Gaming Monitor , it will give you twice the viewing area and pixels of two 1080p monitors.
4K monitors of this size are perfect for fitting your IDE in a vertical layout plus two more windows, ideally for stack overflow and the web app or software you are building. It will also give you the flexibility to open a full screen of graphics-heavy programs, like Premiere, Photoshop, Illustrator, or video games.
3. Adjustability and Ergonomics
Most 4K monitors have flexible stands that allow comfortable viewing angles to help you achieve a good sitting posture, also reducing neck, shoulder, and back pain.
New technologies are also being incorporated into modern 4K monitors to improve ergonomics and productivity.
For instance, the Samsung 32-inch UJ59 4K monitor comes with a flicker-free and eye-saver mode to reduce blue light emissions so you can comfortably use your computer for long hours. It also has a Picture-by-Picture split-screen function that allows you to connect with several devices while maintaining their resolution.
Two Good 4K Monitors for Programming
1. Dell P4317Q
Dell 43" P4317Q Ultra HD 4k Multi Client Monitor, Black/Silver
Dimensions: With Stand: 25.90" H x 38.31" W x 9.84" D | Withouth Stand: 22.29" H x 38.31" W x 3.27"...
View super-crisp text and graphs on an expansive 43" screen in Ultra HD 4K or Full HD resolution1...
Experience comfortable viewing with a high performance monitor scalar and matte screen.
Last update on 2023-05-28 / Affiliate links / Images from Amazon Product Advertising API.
Specifications:
Screen Size: 43-inch
Panel Technology: IPS
Refresh Rate: 60 Hz
Connectivity: 2 HDMI 1.4, 1 DisplayPort, 1 Mini DisplayPort, 1 VGA, 4 USB 3.0
Some programmers may not have the luxury to work on multiple monitors due to a lack of desk space. To get the same benefit of working on multiple monitors, you may opt for monitors with larger screen sizes.
With the Dell P4317Q's RS232 connection and a single mount set-up, you don't have to sacrifice desk space for display space.
It has multi-client client capabilities to connect up to four independent clients with customizable views. With its Dell Display Manager, you can rearrange, resize, or zoom inputs for maximum efficiency.
Since you don't have to deal with bezel breaks, it's the best alternative to having four separate 1080p HD screens, not to mention that it has a wide 178-degree viewing angle that allows consistent colors for impressively seamless collaborations.
This monitor also features low reflection and a true matte finish to help you work comfortably.
Pros
Superb build quality
Dell Display Manager makes multi-input management easy
Flexible connectivity options
Wide viewing angles
Cons
Stand quality can be improved
2. ASUS VP28UQG – Runner Up
Last update on 2023-05-28 / Affiliate links / Images from Amazon Product Advertising API.
Specifications:
Screen Size: 28-inch
Refresh Rate: 60 Hz
Connectivity: 2 HDMI 1.4, 1 DisplayPort, 1 Mini DisplayPort, 1 VGA, 4 USB 3.0
The ASUS VP28UQG is second on our list as the best 4K monitor because of its affordable price despite its many advanced features. It was originally designed for gamers, so this is the perfect monitor for you if you are a programmer by day and a gamer by night.
This 28-inch monitor has a 1 ms response time and a response time of 60 Hz for lightning-fast visuals for reduced motion blur and smearing. The viewing angle is at 170-degrees for easy collaboration.
It allows Adaptive-Sync/AMD Free Sync support that dynamically adjusts display refresh rates for efficient power consumption, low latency, and reduced stutter.
It also comes with multiple connectivity options, including HDMI and DisplayPort.
We also appreciate that it incorporates the ASUS Eye Care technology which lowers blue light and eliminates flickering. This will reduce eye strain so that you can keep programming or gaming as long as you want.
Pros
Wide viewing angles
Optimal for programming and gaming
ASUS Eye Care technology for reduced eye strain
GamePlus feature is included
Cons
Limited stand adjustments
Contrast can be improved
FAQs
Before you buy a 4K monitor for your work setup, we'll answer some of the most burning questions programmers have about choosing a monitor:
1. Is It Better To Have Multiple Monitors or One Big 4K Monitor?
Most programmers agree that working on two monitors is best for efficient workflow. One monitor will be for code management, while the other will serve as your reference for specifications, documents, emails, and chats.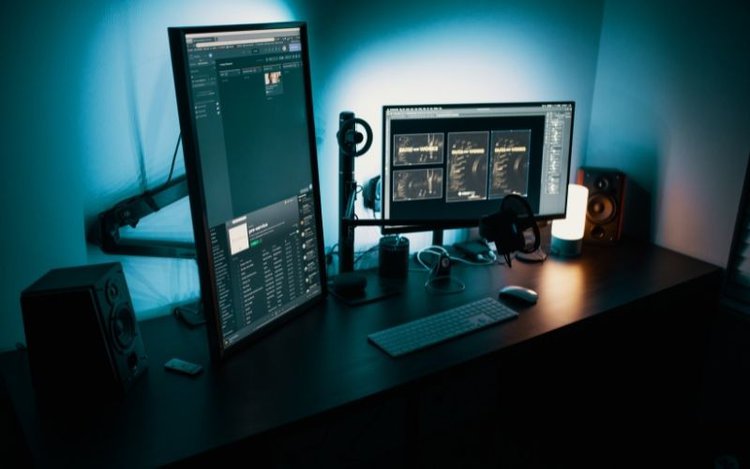 Other programmers will even go for a third monitor dedicated to testing. This task is critical for programmers working in video game development, applications, and web page design. If you're building a multi-monitor setup, make sure to get a 4K monitor for this application.
When purchasing monitors for your station, make sure to check the inputs and outputs. HDMI 1.4 or 2.0 and DisplayPort 2.0 generally achieve the best performance.
On the other hand, some programmers will be happy with one big 4K monitor. This is because working on multiple monitors can make a programmer's job more complicated. Single large monitors require fewer wires, stands, and plugs for you to manage.
As you can see, the answer to this question all boils down to preference.
However, here's what is obvious: if you deal with a lot of high-resolution graphics when you're programming, it will be best to have a 4K monitor in your set-up.
2. What Screen Size Is Good for Programming on a 4K Monitor?
With the variety of sizes available, choosing a size for our 4K screen can be difficult.
A 28-inch 4K monitor with a 16:9 aspect ratio is best. For most programmers. 32-inch 4K monitors are also great for programmers who value multi-tasking.
While you can fit multiple windows in a smaller 4K monitor, it will be more difficult to read the text because images are scaled-down.
However, the final choice will still depend on your work preferences and your budget. Since you'll likely be using your monitor outside work, consider if you want to play video games, watch movies, and if you'll be sharing the screen when choosing the screen size.
3. What Is the Best Orientation for a 4K Monitor for Programming?
As you know, most consumers prefer a horizontal monitor. However, programmers may prefer vertically-oriented monitors since these allow you to see more codes simultaneously without the need to scroll up and down.
Choosing portrait mode will allow you to see more condensed versions of your tabs minus the dead space, while still allowing the windows to fit comfortably.
Because of this, you must choose a 4K monitor with an adjustable stand or a folding base, allowing you to tilt, rotate, swivel, lift, and orient the monitor.
Otherwise, there's a wide selection of free-standing desk risers on Amazon. Make sure to choose one that has a 360-rotation for supporting portrait mode.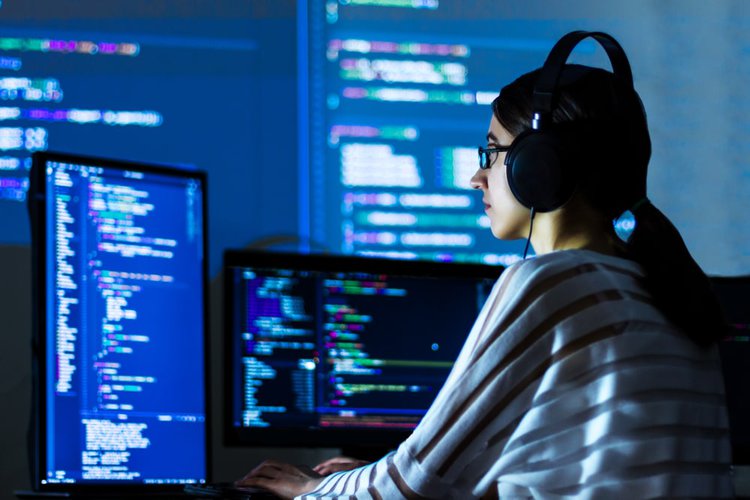 Conclusion
4K monitors are becoming the norm for most gamers and content creators, but is it a worthwhile investment for programmers?
While the hefty price tag of 4K monitors might discourage some programmers, the advantages of going with a higher resolution monitor are extensive due to the larger screen and advanced ergonomic and productivity features.
Some programmers who deal purely with codes may benefit from 1440p monitors. However, if you are a video game or web developer, you can get optimal productivity with a 4K monitor.
Because of the sharp details of 4K monitors, coding, designing, and testing become easier and more efficient.
4K monitors contain four times the number of pixels in a 1080p monitor, so you can essentially fit four times the number of content on a single setup.
Especially if you're interested in a multi-monitor workstation, going with a single large 4K monitor gives you a seamless viewing experience without the bezels. It also eliminates the complexity of having to manage multiple plugs, cables, and stands.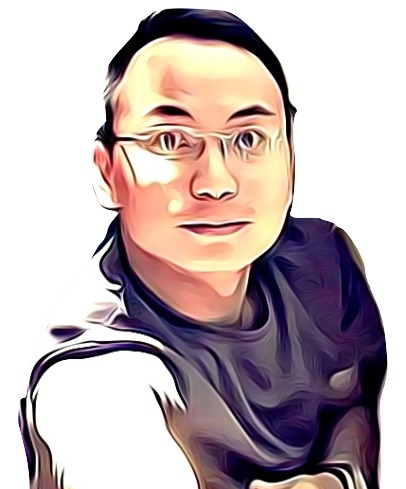 Vance is a dad, former software engineer, and tech lover. Knowing how a computer works becomes handy when he builds Pointer Clicker. His quest is to make tech more accessible for non-techie users. When not working with his team, you can find him caring for his son and gaming.