Apple users might have a difficult time trying to make PowerPoint presentations on their Macbook, Ipad, or Iphone. This is because PowerPoint isn't a native application for Apple products.As we know, PowerPoint is by Microsoft. Although it can be installed on your Mac, you'll have to purchase it separately.
In this case, for a cost-free option, many Apple customers opt to use Keynote instead. Despite the time you'll need to take to familiarize yourself with this slideshow maker and other issues, it's still a well performing software.
Just like Microsoft, Mac has its own software for creating slideshows. It's called Keynote and for Apple users, it's totally free of charge.
Do MacBooks have Powerpoint? What is Powerpoint called on Mac?
Just like Microsoft, Mac has its own software for creating slideshows. It's called Keynote and for Apple users, it's totally free of charge.
According to the Apple website, Keynote is an easy way to build unforgettable and spectacular presentations. If you are on a PC, you can use Keynote online on iCloud.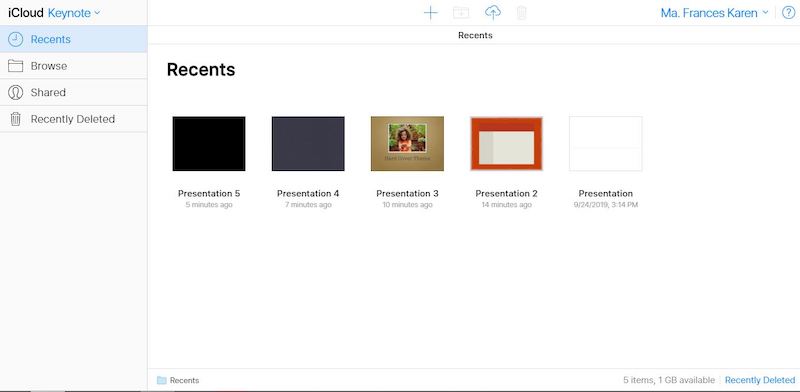 Keynote online
Most of the graphics, texts, slide formatting, charts, and miscellaneous features from PowerPoint are supported. But, many are just partially supported, and a good number is completely incompatible.
Here are some impressive Keynote themes.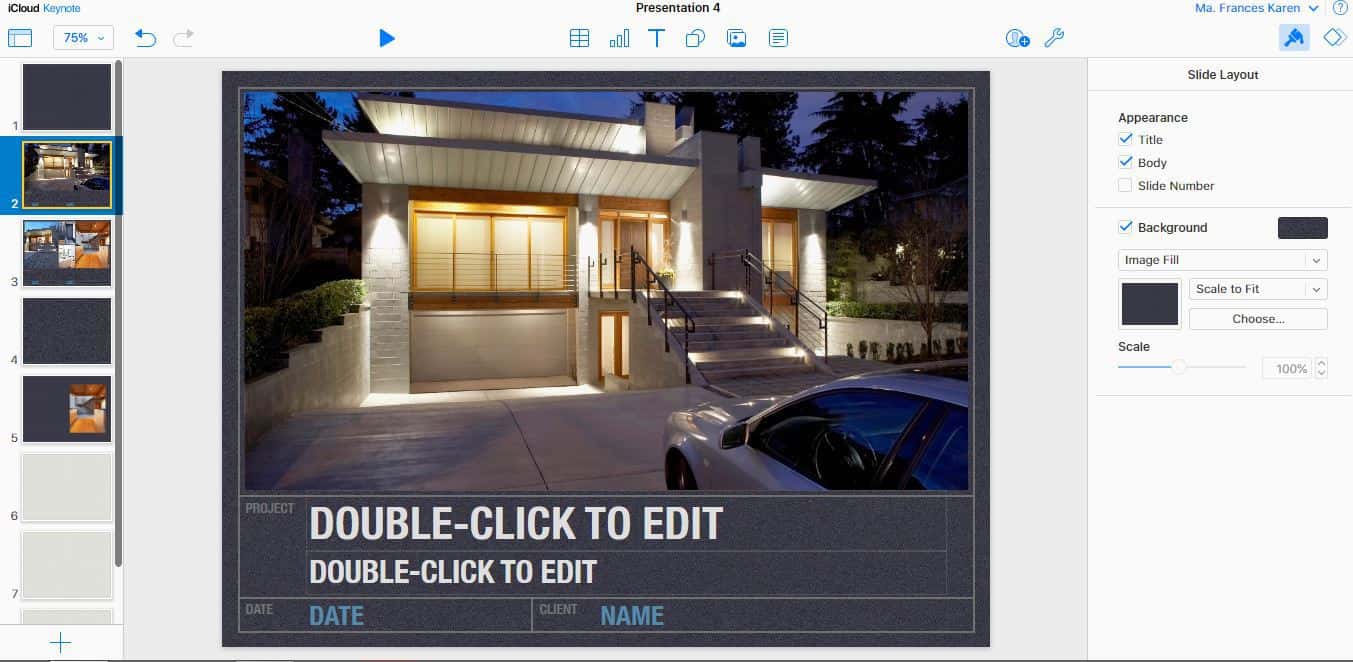 Blueprint Keynote theme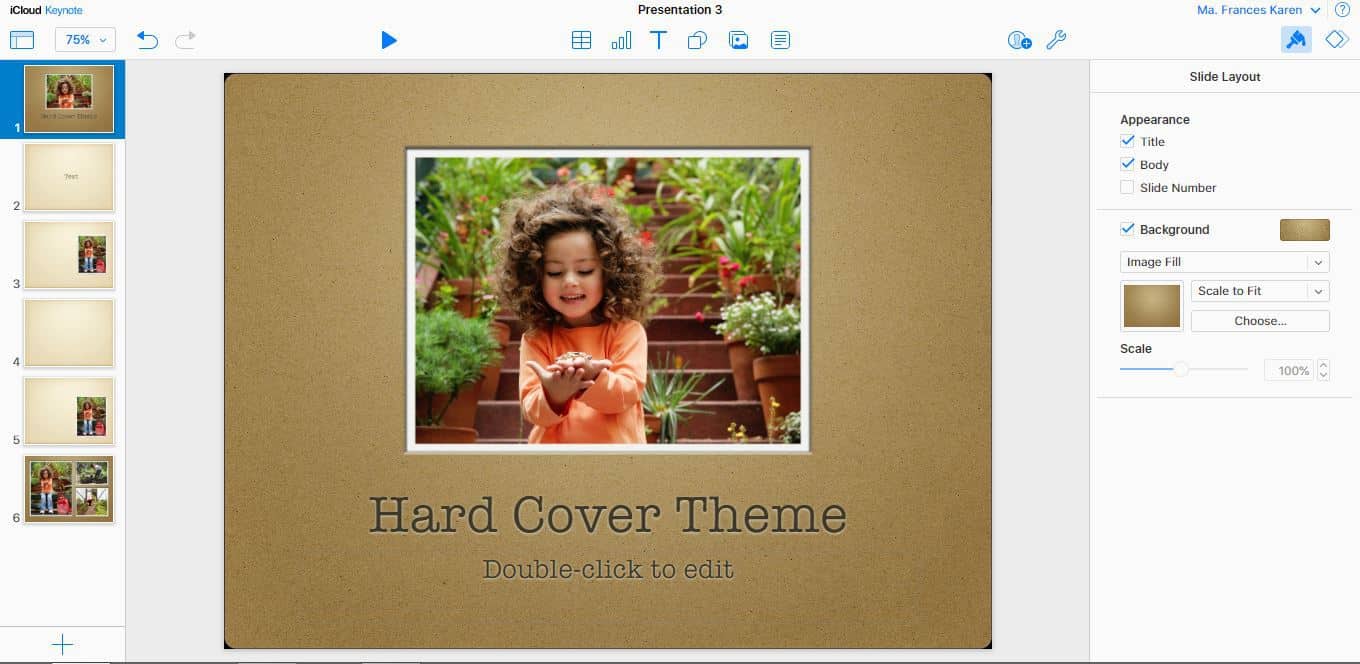 Hard Cover Keynote theme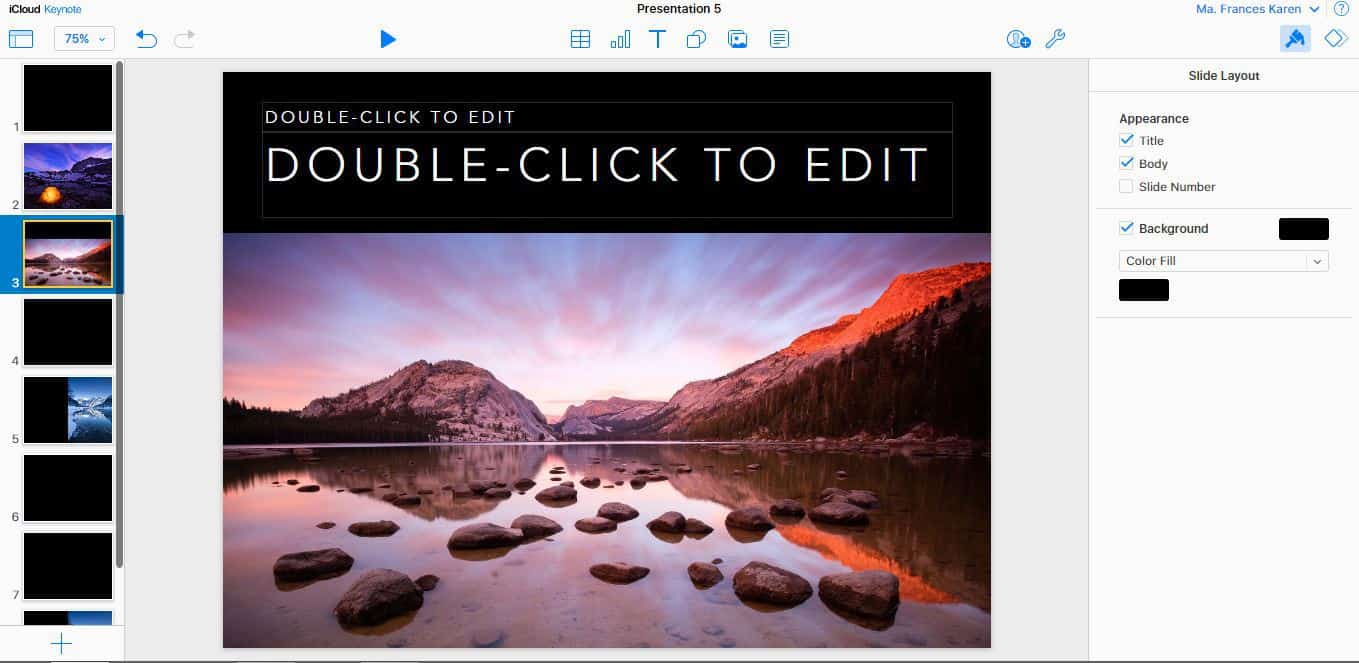 Photo Essay Keynote theme
And also some other cool PowerPoint Online themes.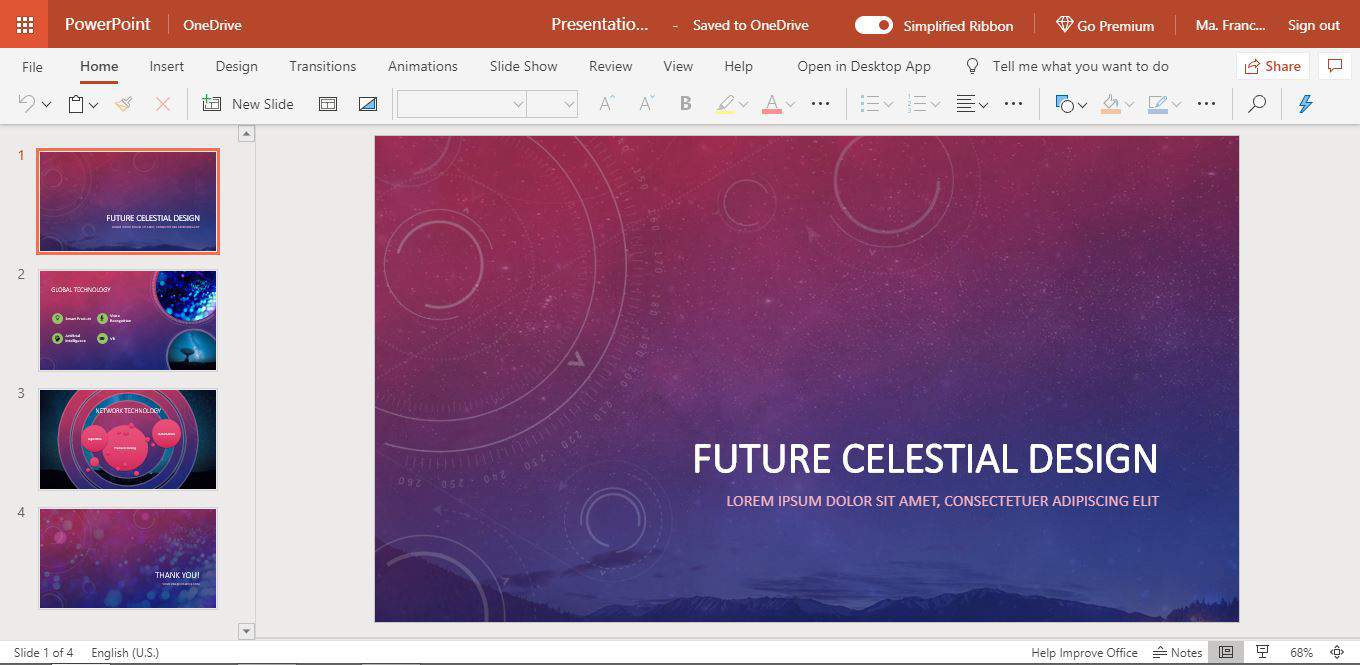 Future Celestial design PowerPoint Online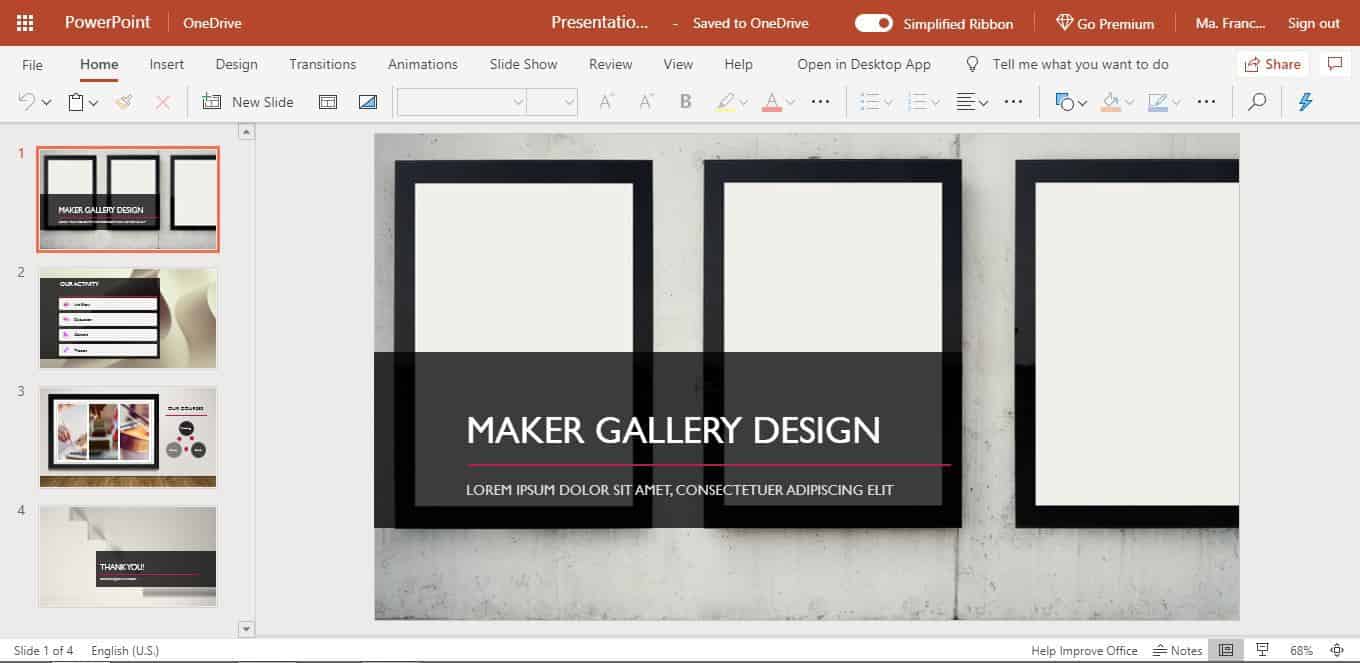 Maker Gallery Design PowerPoint Online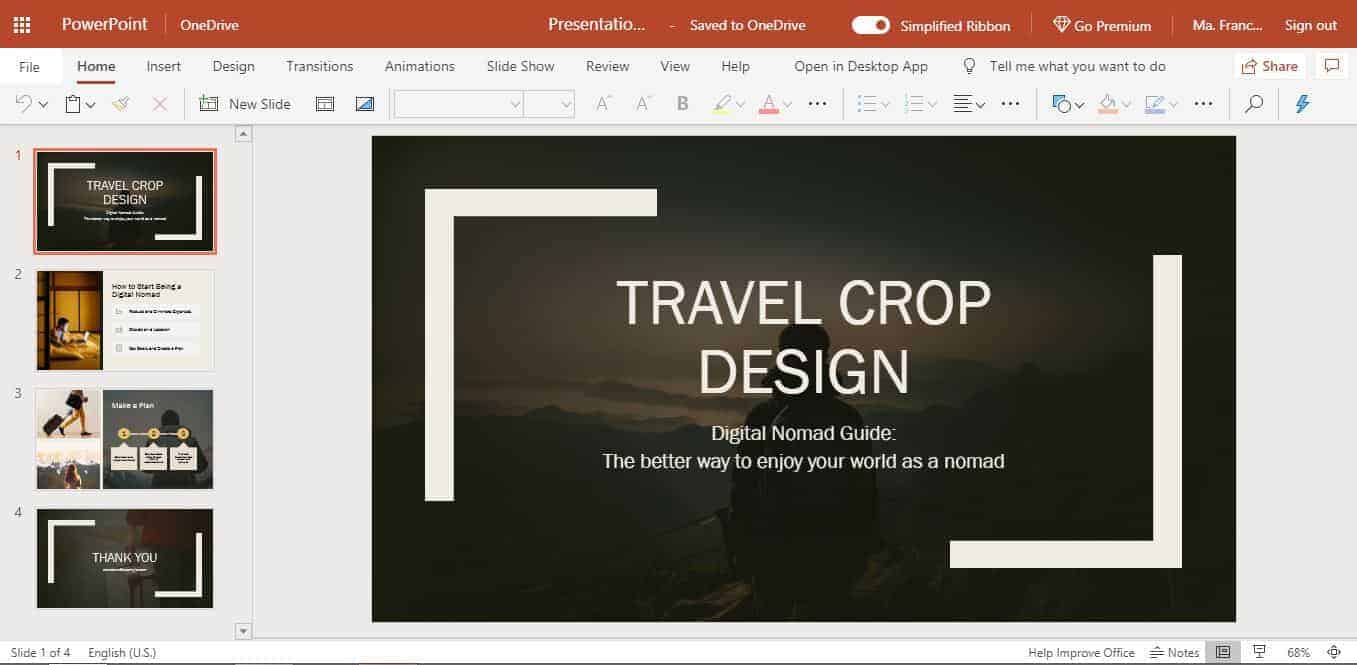 Travel Crop design PowerPoint Online
Pros and Cons of Keynote on MacBook
Pros
Easy to operate
Plenty of refined and well-designed themes
User-friendly photo editing features
All kinds of multimedia formats can be used
Impeccable animation
Easy transfer on multiple personal devices
Absolutely free for iOS
Cons
Several features from Microsoft PowerPoint are not compatible
Not as popular as other slideshow makers
Could be difficult to use at first
For PC users, Keynote is only available on OS X
Converting .key to .PPTX might be troublesome as not all features will be supported
What is PowerPoint (ppts) on Ipad?
If I convinced you, it's fairly easy to download and install. Simply open the Apple App Store and search for keynote.
Just like Mac, Keynote is also the native slideshow maker for Ipad. In fact, it's usable on all iOS devices.
For people on the go, this is definitely a terrific feature as you can simply access the Keynote file on your iPhone or your iPad. However, for individuals who don't exclusively use Apple products, it might be troublesome to convert the presentation to other formats.
However, even after converting the presentations successfully, you will need to re-edit certain parts of the slideshow. Again, this is because not all parts will be converted accurately due to incompatibility issues.
Granted, if you're on a PC, you can use Keynote online to complete the presentations, as long as these are uploaded on iCloud. Unfortunately, if you plan to work offline on Windows, it isn't feasible because Keynote cannot be installed on a Windows platform.
Moreover, once the day of the presentation hits, you might possibly hit the dilemma of using an HDMI or VGA cable. For this, you will need an adaptor compatible with your devices.
If you want to use a television, remember to use a lightning to HDMI adapter. Once this is done, you'll also have to adjust the ratio in order for it to fill up the screen.
For a projector, you will need a VGA or HDMI adapter compatible with your Apple device. Once on fullscreen, you can adjust the ratio again, if desired.
With an iPad, it's easy to maneuver through the slides during the actual presentation. Tapping and sliding are the only motions you will need.
My favorite part here is being able to draw on the actual slides using an Apple Pencil or your finger. Unlike using a mouse or touchpad, it's much easier to control the drawings or the notes you want to add during the presentation.
Pros and Cons of Keynote on iPad
Pros
Easy to operate during presentations
iCloud makes it easy to save the presentations
Saved .key presentations on iCloud can be accessed on all your Apple devices
Easy annotation
Even on a PC, you can access Keynote on iCloud.com
Cons
For presentations, you will need an HDMI or VGA adapter
You can't use Keynote offline, if you're on a PC
There are mishaps in converting .pptx to .key
Review Google Slides vs Powerpoint Compatibility
Google Slides is Google's version of a slideshow presentation maker. Many businesses prefer to use this because it's easy to share documents within a team.
But the best part is that it's absolutely free. I personally enjoy using Google's office suite because it's autosave feature is much more reliable than that of MS Office.
As a PC user, it's much easier to adjust to using Google Slides than Keynote. Of course, if you're an Apple user, there will also be a learning curve if you're not familiar with PowerPoint or Google Slides.
Collaboration
Google Slides' use of the cloud to save presentations makes for simple collaboration. All you need is a Google account which is fairly common for the average joe.
Share button on PowerPoint Online
Share button on Google Slides
Similarly, Keynote and PowerPoint also carry this feature. The difference is that the former requires an AppleID while the latter doesn't.
If you want to share your presentation to a colleague, you can simply input their email, they'll be notified even without a Microsoft account.
How to share using PowerPoint Online
Sharing presentations for both PowerPoint and Google Slides is quite similar. All you need to do is click on share, enter the account of the individuals you want to collaborate with, and set the limitations.
You can also use a shareable link easily, or enter the usernames or email addresses of the people you want to share it with. You can allow them to view, edit, or comment.
How to share using Google Slides
However, PowerPoint collaboration is only possible on MS Office Online, MS Office 365, and Microsoft Office Home & Student. Among these, only MS Office Online is free.
Limitations
Although the online version is free, it's not as good as the desktop version due to several restrictions. For instance, transitions and animations are limited.
I think the biggest drawback for both Google Slides and MS PowerPoint online is that you can only make slideshows less than 100MB. For an easy fix, you'll have to classify your presentation into separate smaller groups.
I don't think that's too much of a hassle since you will be having more files but they'll be smaller in size. The upside is that your presentation won't be prone to crashing and it can be easier to upload and share.
File compatibility
When it comes to opening a .pptx file on Google Slides, it's actually quite easy. All you need to do is upload the file on Google Drive and choose Google Slides to open.
Immediately, it will convert and save a Google Slides copy. However, you might want to edit certain parts of your presentation because the conversion could cause some changes in format.
Working offline
Unlike PowerPoint, you can't install Google Slides. So, before you go offline, you might want to go through these steps suggested by Google.
Connect to the internet
Open Google Chrome
Disable private browsing
Download the extension for Google Docs Offline Chrome (Download it here)
Ensure your device has free space for your documents
Switch to your Google Profile on Chrome
Open Google Slides
Click Main Menu on the top left, then go to Settings
Turn on Offline on the right side
Pros and Cons of Google Slides
Pros
Completely free
Effortless collaboration
Easy to use for a PC user
No software installation
Can convert PowerPoint presentations
Straightforward embedding on websites
Useable offline, if you follow the steps above
Almost everyone has a Google Account
Cons
Each presentation is only limited to 100MB
Cannot be installed on a device
Features may be minimal in comparison to full desktop versions of PowerPoint and Keynote
Last update on 2022-05-17 / Affiliate links / Images from Amazon Product Advertising API.