Looking forward to your next scuba diving adventure? How about carrying with you an underwater laser pointer for an even magical experience.
A waterproof laser pointer is the most ideal for pointing out the undersea flora and fauna without creating any disturbance to the environment or the food chain. It is also a great way to signal your diving pals, pointing out hard-to-see marine life and drawing marine life out of the coves for better viewing.
Underwater lasers are quickly becoming a necessity for every scuba diver or instructor. That is why in this post, we review some of the best laser pointers that can be used underwater. We also share a detailed buyer's guide to help divers find a good waterproof laser pointer.
5 Best Laser Pointers for Underwater
Based on our intensive research and experiences from divemasters, here are the five best laser pointers for underwater:
Topping our list of the best underwater laser pointers is the Underwater Laser Pointer. It's three times more powerful than nearly all the underwater lasers in the market, and as the name suggests, it is specifically designed for the deep waters.
Underwater laser pointer is the perfect handy tool to help divers explore marine life. Powered by AA alkaline batteries, the laser is designed with an easy-grip handle that fits the hand well and is comfortable to hold for long hours.
With a projectile range of between 500 to 800 meters and a wavelength of between 600 and 650 nm, the laser pointer is safe to use up to 60 meters deep. After that is ceases to be waterproof.
Underwater laser is must-have gear for divers, snorkellers, diving instructors, divemasters, and anyone going deep into the waters and wants a device with high visibility beam for accurate pinpointing. It is made of premium grade plastic hence durable, and comes with a wrist lanyard attached as well as an easy swivel ON/OFF switch.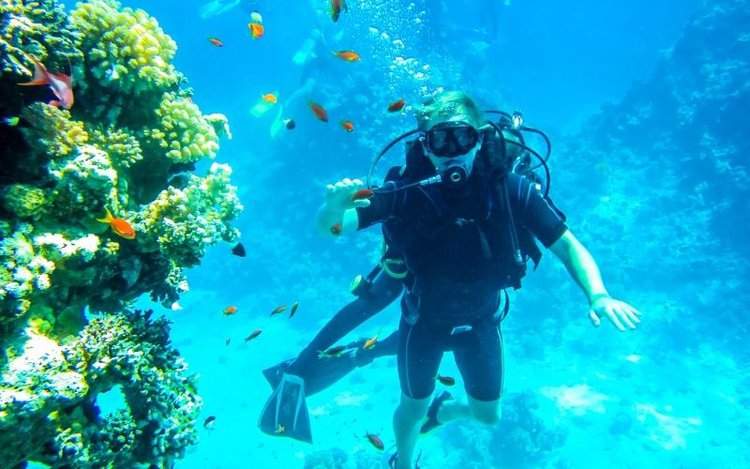 What really blew us off with this Red class III deep water laser was its compact design – just 15cm in length. It easily fits into any BCD pocket when deep in the water.
What we like
Three times more powerful than all other competitors
Compact enough to fit into BCD pockets
Handles are ergonomically designed for easy grip
Made of high-quality plastic material
High beam visibility of up to 50 meters deep
Comes with 2 AA Alkaline Batteries
What we don't like
The beam is very hard to spot when day-diving
Shark laser pointer is a sturdy laser designed for divers. It is made of anodized aircraft-grade aluminum and uses a single 18650 Li-ion 3.6 V rechargeable battery that can last you up to 4 hours under the water.
With cooling fans that prevent the laser pointer from over-heating, which is a common cause for dimming beam, you can leave it on for hours as you dive 400 feet deep from the water surface.
The 5 mW class IIIa Shark laser is 38% brighter than other lasers with the same power output. Its miniature size, 5 inches long and 1-inch diameter, is conveniently portable for underwater activities. You can attach it to a wrist lanyard, hold it in your hand or mount it on devices.
What we loved most about the Shark Laser is that it only has one moving part. This means it's easy to operate, and there are minimal chances of water leaking into the laser pointer.
The laser pointer comes as a package inclusive of a spare set of O-rings, rechargeable batteries, a Universal US battery charger, and a deluxe zipper carry bag.
What we like
Comes with a completely rechargeable Li-ion battery and a universal battery charger
Easy to operate
Compact size which is easy to carry and store
Can run for hours without overheating
Long battery standby time
What we don't like
The OrcaTorch D570 is both a torch and a green laser pointer. The two light sources can be operated individually and also turned on simultaneously.
For instance, you can switch to the laser pointer when you want to signal your diving partners and then switch to the torch when you want to illuminate.
The OrcaTorch D570 has a battery indicator that instantly shows you what the battery level is. All these controls are done through a side switch that is easy to control.
It's a pretty powerful laser that cuts through the water with great visibility. Even in bad visibility, the laser beam is still visible.
We were pleasantly surprised that the light comes with extra o-rings and an additional battery. Both batteries come pre-installed with a micro sd connector and last for fourteen hours.
In addition, it is crafted from aluminum which is super long-lasting so expect to use it for multiple dives.
What we like
Two light sources – white beam torch and green laser
Made of a long-lasting Aircraft-grade premium strength aluminum material
Resistant to water pressure up to a deep of 150 meters
Comes with a side switch button that is easy to operate
Low battery indicator to alert you on time when the charge is almost depleted
What we don't like
You must hold down the laser button for it to stay on, which can be tiring. It would be nice to just press the button once, and the laser stays on.
Powerful Dive Torch with Laser / OrcaTorch D570 GL Review / OrcaTorch Malaysia
The most striking thing about this 1000mw diving laser pointer from HTPOW is the hammer-shaped body. With the body made of aviation aluminum, the laser pointer feels just as solid as it looks. It's also pretty stable and designed to last you multiple dives.
In addition, it's easy to operate; you just need to push the on/off button. It also comes with a rechargeable battery, a charger, safety goggles, and one year warranty to back it up.
What we liked most about this laser pointer is that you can adjust the brightness and focus. This is an important feature for any adventurous diver as it makes it more fun to explore the underwater environment.
The class IV green laser generates a wavelength of 525nm. Even though it has great visibility, this handy device is only ideal for up to 5 meters surface water diving. Perhaps best for diving learners.
What we like
Can operate in super low temperatures of up to -10 ℃
Easy to operate and adjust focus and brightness
One year warranty
What we don't like
Low diving level hence only suited for surface diving.
Underwater 5 Meters Waterproof Laser Pointer
This class 3R waterproof green laser pointer is an excellent light source for divers. You can do plenty with it, like signaling a friend or pointing out some underwater life while snorkeling or scuba diving.
With a power output of 5mw and a wavelength of 532nm, the laser pointer comes with two AA batteries for powering up the pointer. It is waterproof up to 300 feet which is quite impressive and the laser pointer can be held by hand or be attached to another device.
Made from aircraft-grade aluminum, this powerful underwater pointer can also be used outside water like pointing stars in the sky. Outside the water, the laser has a visibility range of up to 3000 meters.
What we like
Can be both underwater and outside the water
Waterproof in waters as deep as 300 feet
Can be attached to a speargun for spearfishing
What we don't like
Lower power output because of the AA batteries. Li-ion batteries would have been the best.
405 nm-20mw violet & green lasers ghost shrimp 01.mpg
What To Look For In A Laser Pointer For Underwater?
Let's now look at some of the important things to look out for when buying a laser pointer for underwater.
Waterproof
As you must know by now, underwater laser pointers must be waterproof. This is the topmost quality you want to be checking when you set out to buy a laser pointer for your underwater activities.
A laser pointer encased in a waterproof shell is exactly what you should be looking for.
Laser Color
Laser pointers are available in a variety of colors, mainly green, blue, red, and violet. Each of these colors has discrete wavelengths and determines the visibility range of the laser pointer in water.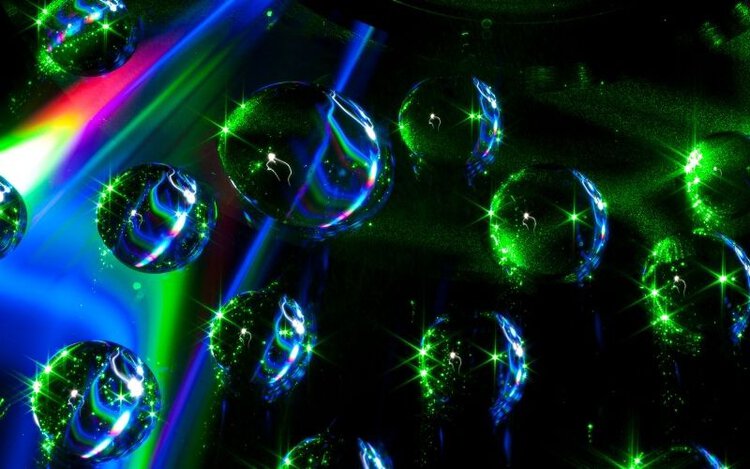 Ideally, a shorter wavelength has better penetration, while a longer wavelength has a lesser penetration.
Green lasers are the most ideal in water medium. They are the most powerful of all colors and the brightest when passing through water. However, they require way more power and are the most expensive. Also, they are sensitive to temperatures and may start to lose power below 5°C.
Red lasers follow closely in range visibility. The great thing about them is that they are a less expensive option and can operate in temperatures below -10°C.
Blue and violet are not well suited for underwater.
Brightness and Power Output
Power output is the amount the energy that the laser pointer emits. This energy is measured in milliwatts (mW) and in some instances, measured in Watts. However, the latter applies to high-power lasers.
The higher the power output, the brighter the laser pointer, and similarly, the lower the power output, the less bright it is. This, however, only holds water when comparing laser pointers of the same wavelength.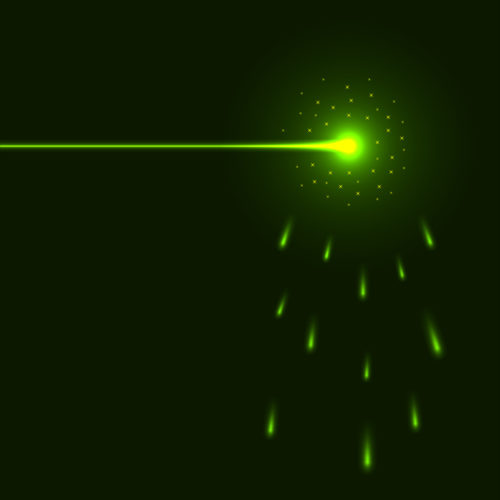 It's important to know that water limits how penetrative a laser pointer will be. A laser pointer may illuminate up to 100 feet away when on land but up to 70 feet away when underwater.
Aim to get a laser in the Class 3R green laser pointer as they have much better penetration over water.
Focus Adjustable Lens
A great feature, although not a necessity, to have is the focus adjustable lens. This allows you to adjust the beam for better performance.
For instance, you can adjust the beam to a general smaller focal point for when you want to signal your diving partners. You could also adjust the beam to a wider diameter for when you want to focus on a larger area.
Conclusion
There goes our thoughts on the five best laser pointers that can be used underwater. These pointers can be used by scuba divers, diving instructors and diving masters, snorkellers, enthusiast fishermen, and just about everyone else who loves marine life.
Laser pointers are not only a light source but are also excellent for signaling fellow divers, pointing out marine life, and drawing them out of coves. They are pretty safe to use as long as they are not pointed directly to the animal's eyes.
Make sure to read our buying guide to know how to choose the best laser pointer for your needs. If you aren't sure where to get started, we'd recommend the OrcaTorch D570 GL . It's a pretty powerful 2 in 1 underwater laser pointer from a reputable brand. Excellent for all underwater activities.
Last update on 2022-08-15 / Affiliate links / Images from Amazon Product Advertising API.