It is surely going to be an unending debate between the best two image rendering media technologies. Provided one of them still has an additional advantage over the other, the debate goes on.
Truth be told, 4K projectors and OLED TV are the definitions of a standard for other projectors and TV when it comes to rendering high-definition images, both in size and in quality.
It requires mentioning that the TV market is a leading player in quality image rendering with just a few 4K projectors coming close to this level.
With the high PQ (perceptual quantizer) of an OLED TV, the only 4K projector that comes close is the JVC projector.
Last update on 2023-03-30 / Affiliate links / Images from Amazon Product Advertising API.
The PQ of a TV is a transfer function that allows a high dynamic range (HDR) video with a high luminance level. HDR relates to light output in both TV and projector.
HDR is a technology that supports increased light output capability so that the images you display have life-like or reality characteristics.
Even with the wonderful viewing experiences they both offer, there is still this unanswered question and comparison about which is better, 4K projector or OLED TV?
If you are one of the people who face the 4K projector vs. OLED TV dilemma because you are looking for the best entertainment experience, here is some information to help in choosing.
4K projector
4K projector has image resolution which is up to 3,840 x 2160 pixels when measured length by width. Most 4K projector uses DLP or LCD chips to create images.
An intriguing feature is the provision of a cinema-quality experience with true and accurate color and depth.
This type of projector is used for the life-sized images it gives during projection.
OLED TV
OLED means organic light-emitting diode and this is a technology used to create displays with different resolutions.
So, OLED TV is a television display technology that gives extremely thin displays with the best picture quality with smooth motion, deep blacks, and vibrant colors.
With just a few layers, OLED TV is lightweight and unbelievably thin with spectacular picture quality, infinite contrast and delivers bright and vibrant colors.
4K projector vs. OLED TV
From the short definition above, you might say these techs are pretty much the same. As much as they share similarities in displaying images and for home entertainment, they still have differences.
So, below are some comparisons between 4K projector and OLED TV from their features and specification.
Feature comparison of both technologies:
| | | |
| --- | --- | --- |
| Features | Projectors | OLED TV |
| Brightness | | ✔️ |
| Black level | | ✔️ |
| Viewing experience and screen size | ✔ | |
| Affordability | ✔️ | |
| Resolution display | ✔️ | |
| Sound quality | | ✔️ |
| Maintenance | | ✔️ |
| Contrast | | ✔️ |
| Ease of use | | ✔️ |
| Space | | ✔️ |
1. Brightness
Most projectors no matter the level of brightness still need dark rooms or a dim environment to deliver their best performance. The 4K projector image brightness is designed for home theatre and they are largely dependent on the light condition of the room.
4K projectors even with the number of pixels still give a kind of washed-out image or faded image in ambient lighting.
OLED TV on the other hand can be used in any environment. It gives sharp and clear images whether in dim lightning or a brightly lit environment.
Winner: OLED TV
2. Resolution display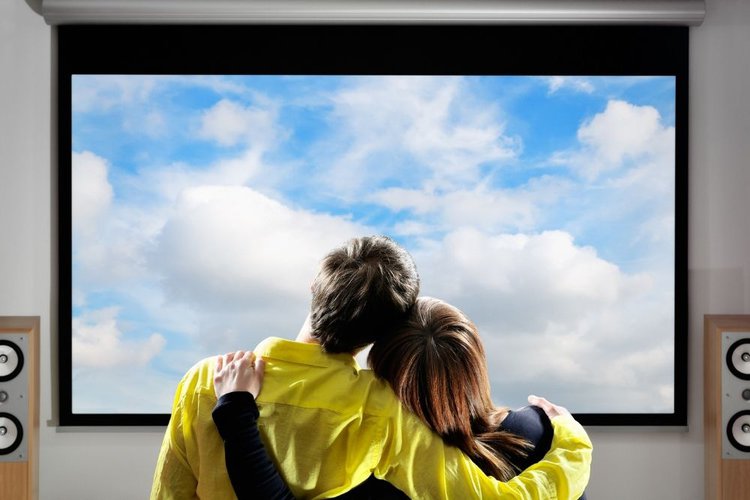 When it comes to resolution, both the 4K projector and OLED TV handle it very well.
Despite this, the OLED TV screen is not big enough to showcase all the details that come with the in-built 4K technology. Even with the large screen it offers, the pixels for image creation are not made to operate at full potential like the 4K projectors.
The OLED TV compresses the images to fit in the screen and this is unlike the 4K projector that highlights every detail and makes it bolder with the large screen.
Winner: 4K projector
3. Contrast
4K projectors are capable of a very high contrast ratio up to 1000:1 with a peak brightness of 200 nits. Unless used in a dark room, the projector will mostly give washed-out images.
OLED TVs have a contrast ratio of 1,000,000:1 and 500 nits. They have an essentially infinite contrast that makes them suitable for any lightning.
Nits are the measure of light or beam of light a screen (either TV or projector) sends or emits within a given area.
This is related to light output and this is also important in the video display.
Winner: OLED TV
4. Black level
Black level is used to describe the brightness level of a TV or a projector. A deep, dark, and pure black level is equivalent to good picture quality.
It helps to determine the level of picture quality.
The black level contributes to the overall picture and viewing experience and the OLED TV is the winner for this category. This is because on an OLED TV, you can turn off pixels to give a complete black level and this makes viewing enjoyable.
You cannot get a black level with a projector as the projector can be likened to a big flashlight and your screen, a large reflector. This means if you use it on light colored surfaces or the environment reflects the light to the screen thereby destroying the black level.
This is why most times cinema uses dark furniture and environment. Well, you can get black level with a JVC projector as it features black levels that can compare to that of the OLED TV in a light-controlled environment.
Winner: OLED TV
5. Affordability
In terms of cost, 4K projectors are more affordable and cost-effective than OLED televisions considering the same display size.
The only additional costs are on the projector screens which can cost about a few hundred dollars or less depending on the size, style, and replacement lamps.
Winner: 4K Projector
6. Maintenance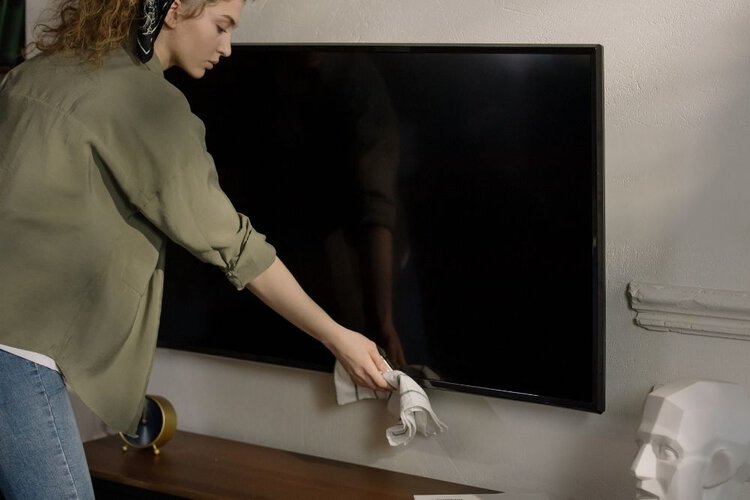 In the aspect of maintenance, OLED TVs are maintenance-free. This is because the LEDs that power them have a long life span.
On the other hand, some 4K projectors tend to use lamps/LED that eventually burn out. There is also the need to make sure dust doesn't get into the projector.
Winner: OLED TV
7. Sound Quality
OLED TV has its own speaker that allows you to enjoy what you want to watch on your TV. They are also much easier to connect with audio devices and control setup with the TV's remote and this makes your home theatre experience a lot more enjoyable.
While some 4K projector models have in-built speakers, they are not loud enough to match the displayed images. Using a big sized screen on the wall and having lower sound cannot make viewing enjoyable, so you have to put a budget on the good sound system.
Winner: OLED TV
8. Viewing experience and screen size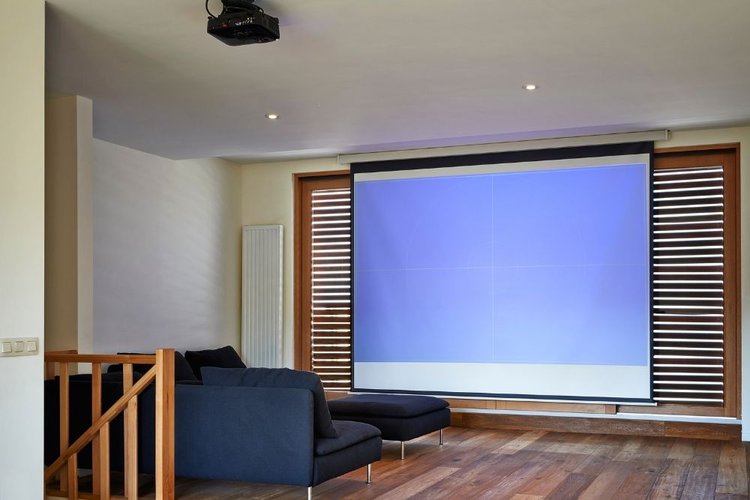 Projectors are awesome because of the size. They allow cinematic experiences which give a close to real images because of the large screens.
Even with the outstanding viewing angle and good contrast that OLED TVs have, you cannot use it for home theatre or might not fully capture the whole filming experience.
Winner: 4K projector
9. Ease of use
OLED TV is very easy to use as it requires just turning on and operating with remote control.
You are bound to face many challenges in projector installation and it requires setting up, warming up, and booting which can take some time.
Winner: OLED TV
10. Space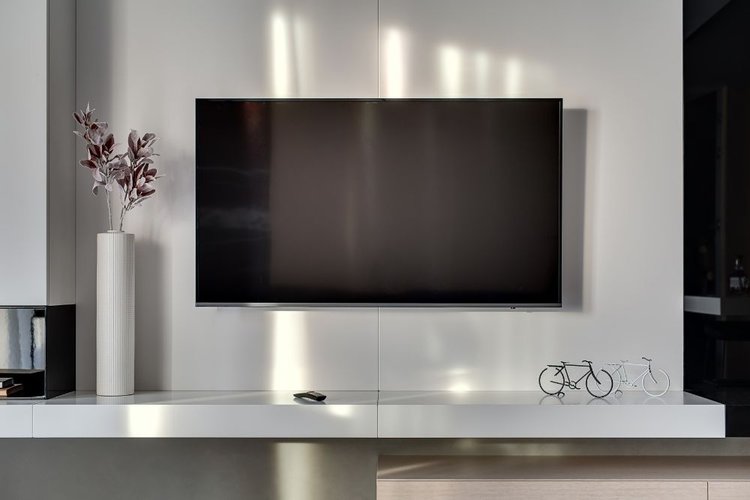 Another concern is space; you can hang up your OLED TV on the wall and still get the perfect viewing experience.
But for a projector, it requires space especially for the screen which needs to be some feet away from the wall. 4K projectors are not ideal for a small room and you might need to dedicate a room for this to serve as a home theatre.
Winner: OLED TV
Pros and Cons
PROS
CONS
OLED TV

Extremely thin display
Best picture quality
High contrast ratio
Less space needed in use
Ease of use
Better built-in sound system
Low cost of maintenance

Very expensive
Limited display size

4K PROJECTOR

Gives a faded image in ambient lightning
Poor built-in sound system
High and frequent maintenance.
Related post: Dolby Vision Projectors: Are They Ready Yet?
Conclusion
Your choice for a 4K projector or OLED TV depends on the room and personal preference. If you want a high-quality image and you have the money then you can invest in an OLED TV.
But if you want a cinema type home entertainment with large images but with lesser quality than OLED TV and less expense, you can go ahead and choose a 4K projector.
From our overall review and feature comparison, OLED TV has topped the chart on most cards. But the purchase of any of these devices should be solely dependent on the buyer's preference and purpose.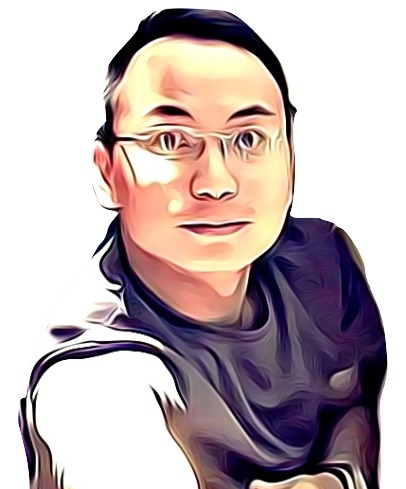 Vance is a dad, former software engineer, and tech lover. Knowing how a computer works becomes handy when he builds Pointer Clicker. His quest is to make tech more accessible for non-techie users. When not working with his team, you can find him caring for his son and gaming.